ISU hires Kyle McGowan as Vice President for University Advancement
September 30, 2019

POCATELLO – Idaho State University has hired Kyle McGowan, a consultant with NAPA Group who served in executive development roles at Vanderbilt and Georgetown Universities, as vice president for University Advancement.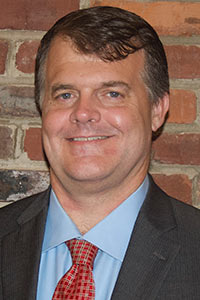 McGowan has more than 20 years of experience at universities working in the areas of strategic and campaign planning, development and alumni relations, management and operations, marketing, and communications and brand management.
"I am excited to announce that Kyle McGowan has accepted the position of Vice President for University Advancement," said Kevin Satterlee, ISU president. "I would like to thank the dedicated search committee who was able to identify a candidate who will provide exceptional leadership in this role. As we look forward to the years ahead, Kyle will serve a key role in implementing best practices for engaging our donors, enhancing community relationships, and fulfilling the strategic objectives and mission of our institution."
At Vanderbilt, McGowan was assistant vice chancellor for development and alumni relations where, among many other accomplishments, he helped the development and communication of five-year, $250-million strategic campaign plan. At Georgetown, he led efforts to create new fundraising programs, redesign organizational structures, develop new engagement strategies and launch new brands.
McGowan holds a Bachelor of Science Degree in business administration from the University of Oregon and a public policy master's degree from Georgetown University. He has served as a speaker for Council for Advancement and Support of Education and as a member of the Annual Giving Director's Consortium.
"His breadth and depth of experience in these areas will undoubtedly serve Idaho State well," Satterlee said. "I am confident in Kyle's ability to build relationships across our Bengal community and help us create a shared vision for our collective future."
McGowan will begin working at ISU in mid-November.
---
Categories: