ISU community invited to help Raise the Roar Sept. 18 and 19 for I Love ISU
September 16, 2019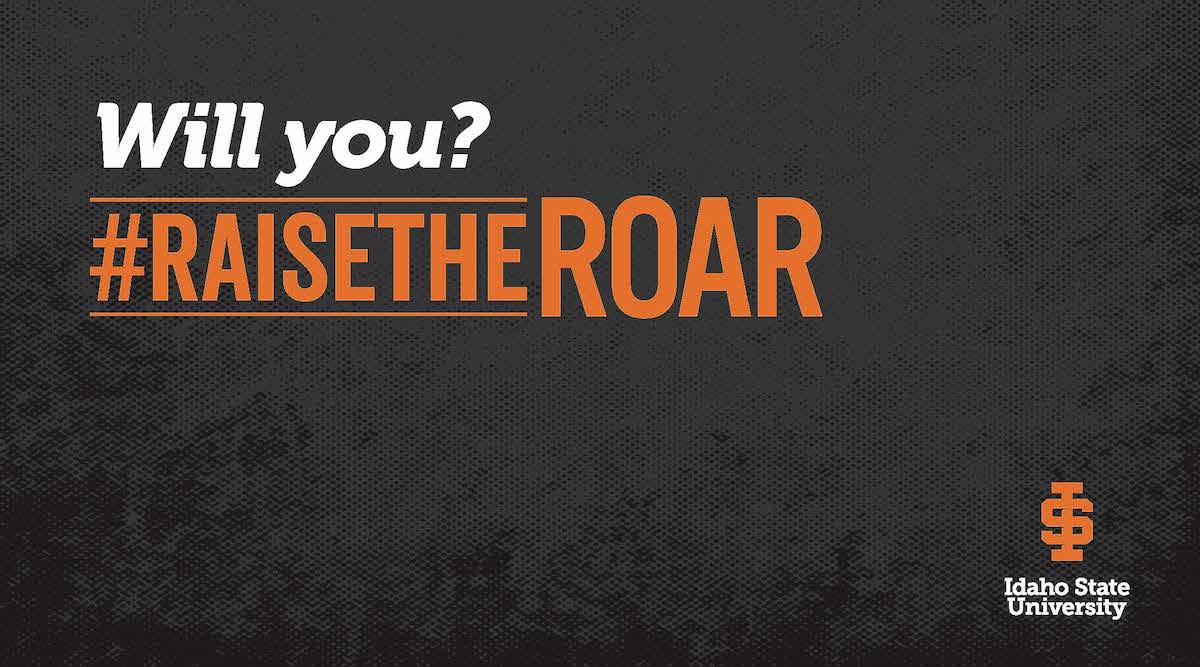 POCATELLO – Sept. 18 and 19 are an opportunity for alumni, friends and employees of Idaho State University to help Raise the Roar and contribute to ISU during this year's I Love ISU campaign.
"This year, ISU wants everyone to Raise the Roar for the I Love ISU campaign that kicks off at 10 a.m. Wednesday, Sept. 18," said Kallee Valentine, ISU director of annual living. "This year, Bengal volunteers will be raising money for scholarships and programs on the phone and online."
The online giving site, raisetheroar.isu.edu, allows the ISU community and friends to track the progress of the campaign and provides match and challenge opportunities issued by alumni and community businesses like ISU Credit Union, Bingham Healthcare, McDonald's, Idaho Central Credit Union and Engineered Systems Association, she said.
"There are plenty of ways to help us Raise the Roar," Valentine said. "Participants can donate to their favorite program, create a match or challenge, become an ambassador, attend an event at Idaho State, wear orange and black or post a picture with hashtag #raisetheROAR."
Teams of ISU, business and community volunteers will be reaching out to the Bengal Nation with phone calls on Sept. 18 and 19 and there are special events planned both of those days.
Highlights of Raise the Roar on Sept. 18 and 19 include the following activities:
Wednesday, Sept. 18
• 10 a.m. – Live Facebook kick-off, Pond Student Union Quad Lounge.
• 5-7:30 p.m. – 80's Dinner Party at Turner Hall, organized by Bengal Dining
• 7:30 - 9 p.m. – 3-point Basketball Contest, Reed Gym, sponsored by Bingham Healthcare
• 7:30 - 9 p.m. – Uno Tournament, Pond Student Union Quad Lounge, sponsored by ISU Credit Union
Thursday, Sept. 19
• 5 – 7 p.m. – I Love ISU After Hours Celebration, Pond Student Union Quad Lounge. At this celebration the campaign total and prize winners will be announced. There will be free food and beverages courtesy of Watkins Distributing and the ISU Foundation. Volunteer teams that are calling for Raise the Roar include the Pocatello/Chubbuck Chamber of Commerce, Pocatello Fire Department, Retired Educators, Rotary Clubs of Pocatello/Chubbuck, Idaho State Journal, Intermountain Gas, College of Technology, ISU Credit Union, Idaho Power, ISU Staff Council, ISU Alumni and the ISU Staff Team.
Those interested in donating can designate a gift to the area of their choice. For more information on this, browse the "Areas of Impact" on the main page of the website raisetheroar.isu.edu to learn how a gift can benefit students and programs at ISU. Gifts can be made in person at the Pond Student Union Quad Lounge on Sept. 18-19, by calling (208) 282-3470 or online at raisetheroar.isu.edu.
Friends of ISU are encouraged to use the hashtag #raiseROAR as a way of tracking participation on social media platforms through Sept. 19 when adding posts and celebrating being a Bengal.
---
Categories: