Idaho State University to host Indigenous Peoples Day Celebration on Oct. 14
October 8, 2019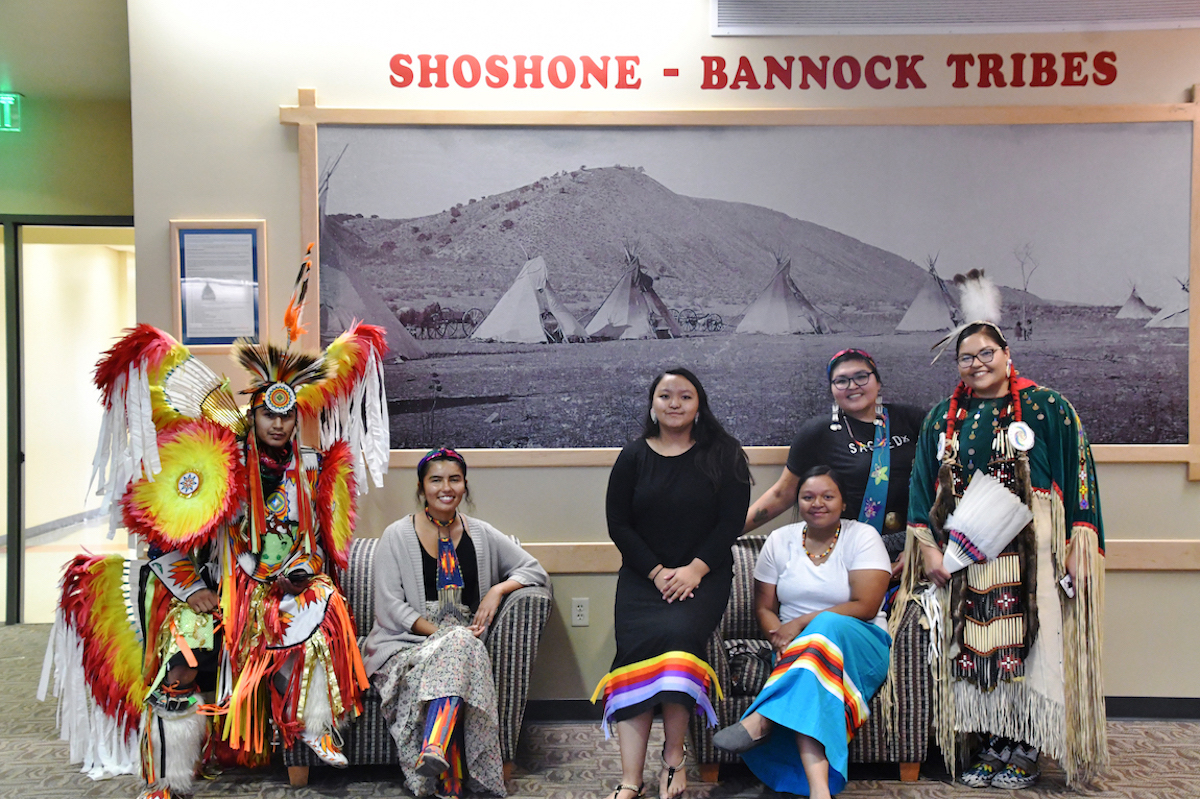 POCATELLO – Idaho State University will host its inaugural Indigenous Peoples Day Celebration on Oct. 14, which will feature a sunrise ceremony, speeches, panel discussions, workshops, performances and a film screening.
"Idaho State will recognize and celebrate Indigenous Peoples Day to honor the culture and history of all members of our global community," said ISU President Kevin Satterlee. " A lot of planning and preparation has gone into organizing this day by tribal and University leaders and friends, with a goal to educate and better our community through education."
The celebration is designed to be an acknowledgement of the interrelated nature of the University, local and global communities. The day-long event welcomes all stakeholders to explore the ideas of what it means to be indigenous and how the campus community can support all students.
"Indigenous Day is a day for everyone to understand and celebrate the rich cultures we have right here in Pocatello and Southeast Idaho," said Randy'L Teton, Shoshone Bannock Tribes public affairs manager. "Our renewed relationship with President Satterlee marks a new beginning for the shared history and culture. We are happy to participate in the upcoming ISU Indigenous Day on Oct. 14."
The term 'indigenous' describes groups originating or historically connected to a place prior to its colonization-settlement by an outside group. Idaho State's Indigenous Peoples Day highlights the global diversity of indigenous peoples, experiences and needs while focusing on building relationships with local communities.
"Many people are not aware of the history of Christopher Columbus conquest nor the history of Indigenous People of the west," said Lethaniel Loley, Native American Student Services Coordinator. "For 527 years, we as Native American people were forgotten in the history books, and taught not to share what knowledge we had in the past. I would like to invite everyone from Southeast Idaho to come explore the workshop sessions and to understand 'What does it mean to be indigenous?'"
Indigenous Peoples Day is a collaborative event between ISU and the Shoshone-Bannock Tribes. Shoshone-Bannock Tribes Chairman Ladd Edmo said it's time to change the focus from Columbus Day to a time of celebrating and recognizing the Native American culture and community.
"October 14 is a day we commemorate the shared history and culture of our American Indian Peoples," said Ladd Edmo, Shoshone-Bannock Tribes Chairman. "We, as Shoshone-Bannock people, have been here for thousands of years and aren't going anywhere."
The day will begin with a sunrise ceremony at 7:30 a.m. on the ISU Hutchinson Quadrangle, followed by a breakfast at 8 a.m. in the Pond Student Union Ballroom. ISU President Kevin Satterlee and Shoshone-Bannock Tribes Chairman Ladd Emo will welcome and address participants at 9 a.m. in the Pond Student Union.
Other events scheduled for the day include:
• 9 a.m. to 5 p.m. – Student Poster Session: Indigenous Education: Acknowledging the Past, Looking to the Future
• 9 a.m. to 5 p.m. – Indigenous Authors Book Display in the Eli M. Oboler Library
• 9:30 a.m. – Panel discussion on "What does it mean to be indigenous?" in Pond Student Union Ballroom
• 11 a.m. to 1 p.m. – Lunch, featuring Medicine Thunder Drum Group and cultural performances on the Hutchinson Quadrangle (Ballroom in inclement weather site)
• 11 a.m. to 2 p.m. – Free admission to the Idaho Museum of Natural History
• 1 to 3 p.m. – Workshop Session 1 that will include the three different topics "Indigeneity and the Environment: How can traditional knowledge help solve environmental challenges?," "River of Return - A Middle Fork Salmon River Story," and "#IndigenizingTheCollegeExperience" in three different Pond Student Union rooms.
• 2 to 3 p.m. – Workshop Session 2 that will include the topics "Nemme Sogope (Our Lands)," "Ethical Research with Indigenous Communities," and "Health and Indigenous Populations" in three different Pond Student Union rooms.
• 3 to 5 p.m. – Screening and discussion of film "Columbus in America."
The panel discussions and workshops feature ISU faculty, staff and graduate students, and members of the Shoshone-Bannock Tribes community.
For more detailed information or to register to attend the event, visit www.isu.edu/ipd.
Idaho State University, a Carnegie-classified doctoral high research activity university and teaching institution founded in 1901, attracts students from around the world to its Idaho campuses. At the main campus in Pocatello, and at locations in Meridian, Idaho Falls and Twin Falls, ISU has nine Colleges, a Graduate School and a Division of Health Sciences that together offer more than 250 certificate and degree programs. More than 12,000 students attend ISU. Idaho State University is the state's designated lead institution in health professions.
---
Categories: