Idaho State University faculty strengthen University of Namibia collaboration with second visit
September 17, 2019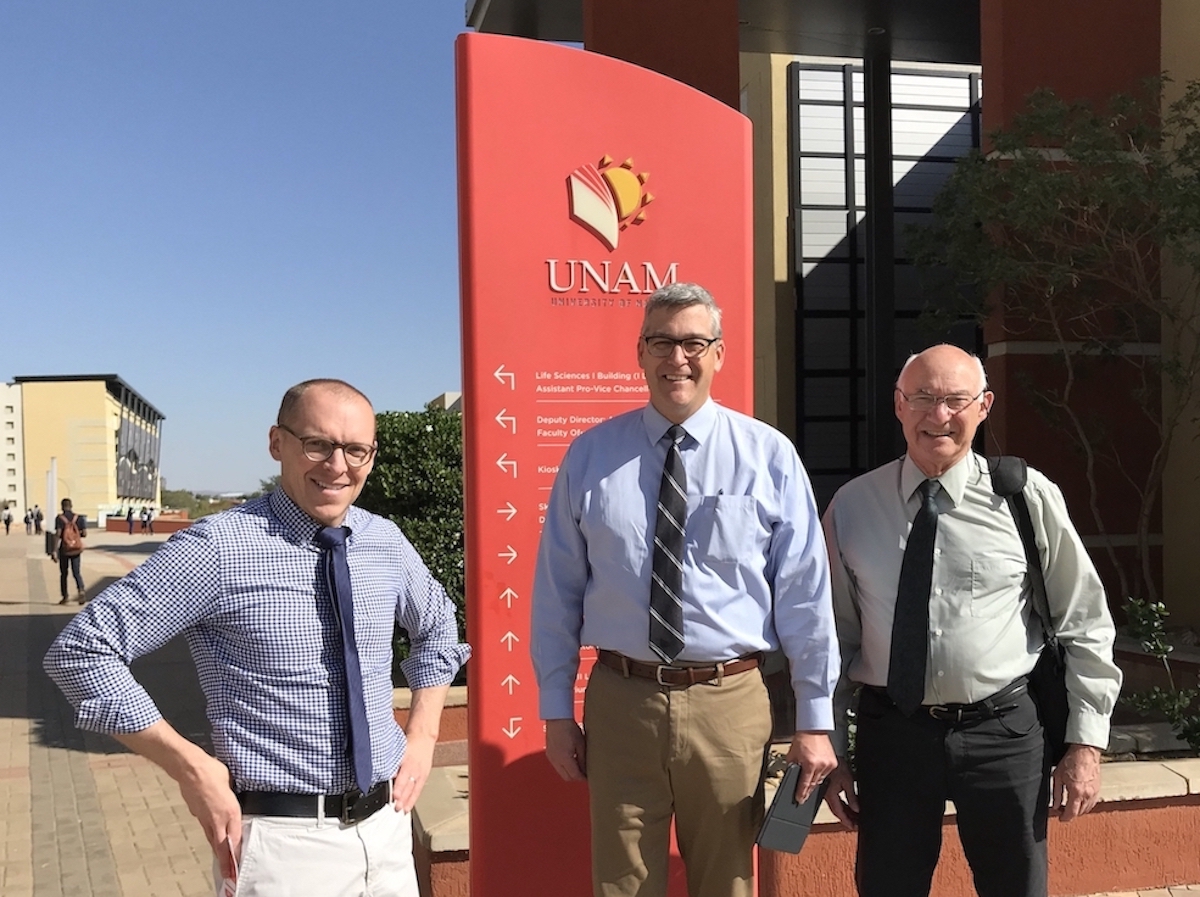 Valentine's Day cookie sale funds Namibian health professions student's service
POCATELLO - A group of Idaho State professors from the Kasiska Division of Health Sciences recently returned from a trip abroad, with a fresh vigor in their intent to share medical knowledge and collaborate with another health care focused university - the University of Namibia in Windhoek.
For Dr. Dave Hachey, a professor of family medicine that has worked for ISU since 1998, this was his second visit to Namibia. Hachey spent four months there last year while on sabbatical. There, he worked alongside UNAM students, faculty and leadership at the schools of pharmacy and medicine supporting teaching, research and clinical services.
This year, Hachey had the privilege of delivering a monetary donation raised in a fundraiser by the ISU College of Pharmacy students. Rex Force, ISU vice president for health sciences and Jonathan Cree, clinical professor and senior faculty at the ISU Department of Family Medicine, also joined him. Their goals are simple: to continue strengthening the partnerships between UNAM and ISU through education, training and preparation of pharmacy, medical and other health science students and helping Namibia leverage its existing resources. The three hope to also begin building new partnerships with dentistry, physical and occupational therapy, public health, and nursing.
Visiting UNAM proved to be a humbling experience for the Idaho State faculty, in part due to the graciousness and humility of the Namibian students. A group of UNAM health sciences students have formed an interprofessional organization focused on service projects within their region, as well as outside of the community. The group, called Reach One, Serve One, finds various ways to serve others, including donating supplies to the hospital, spending time with patients in assisted living facilities and helping local foster mothers.
Cynthia Tillotson, director of admissions and student affairs for the ISU College of Pharmacy and advisor for the students who are involved in the ISU chapter of International Pharmaceutical Students Federation, said the students chose to hold a Valentine's Day cookie sale to raise money for Reach One, Serve One. The donation, just over $400, was presented during the group's visit to UNAM. The Reach One, Serve One students were extremely thankful for the funds. Hachey described them as "ecstatic and gracious, receiving the gift with humility and gratitude."
"They even went so far as to organize an event to receive the donation," Hachey said. "These funds will be enough to fund their projects for an entire year. Even though it was during their finals week, students planned an entire evening honoring the ISU students and faculty."
The three professors are well poised to facilitate the primary goal of the UNAM visit, which is to continue fostering existing relationships with faculty and leadership there, along with creating new collaborative opportunities. Their unique experience working together in the ISU Department of Family Medicine has equipped them with the knowledge and expertise the faculty at UNAM are seeking. This includes assistance in creating and improving their educational structure and curriculum and improving health outcomes in rural and underserved areas.
Force says medical schooling and health care in Namibia differ from that in the United States, because the two populations have such drastic differences in needs. In Namibia, health care providers widely prioritize communicable disease and crisis care. They see and treat many tuberculosis and HIV cases, which translates into the educational curriculum. In the United States, providers are generally training students to treat non-communicable diseases such as diabetes, depression, obesity and similar maladies.
"As the population westernizes, their focus in both care and in education will become more similar to ours," Force said.
Cree plans to pursue an extended sabbatical in Namibia, mostly consisting of visits to rural hospitals. A more lengthy trip will allow the physician and professor to train and mentor students and faculty at UNAM, and in rural hospitals.
Creating and maintaining a strong relationship with UNAM students and faculty is important to both ISU and UNAM leadership and administration. This is evident in a paper co-authored by Hachey, and Timothy Rennie, associate dean for the UNAM School of Pharmacy, that recently appeared in the Journal of American College of Clinical Pharmacy titled: "The role of visiting faculty on the training of clinical pharmacists in Namibia: A qualitative study." Between the data gathered for the journal article and multiple trips to UNAM, evidence for such partnerships and collaborative learning by visiting faculty between universities became prominent enough for Hachey to also be awarded honorary visiting professor status at UNAM following this year's visit.
The Kasiska Division of Health Sciences hopes to continue forging partnerships with the University of Namibia in as many aspects as possible.
"Our collaboration between Idaho State and UNAM is a much more calculated approach than a medical mission that lasts only a few weeks," Hachey said. "These trips allow us to work together to sustain the improvement of care, rather than just short term treatment of illness or disease. That is a benefit for everyone involved."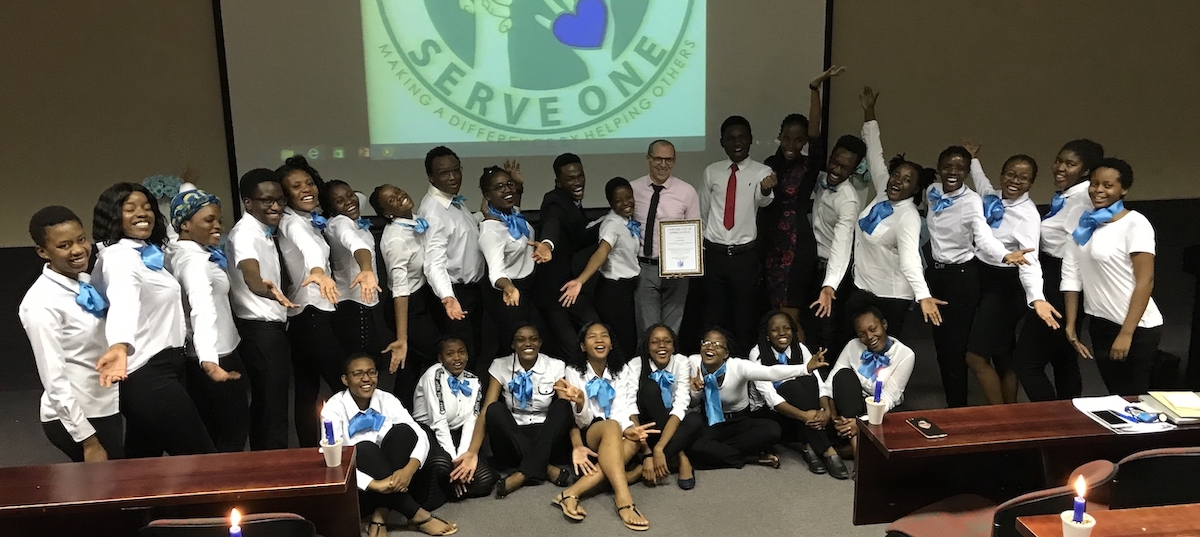 University of Namibia health professions students who are members of the Reach One, Serve One student organization held a special evening reception to accept a monetary donation from an Idaho State University College of Pharmacy fundraiser.
Idaho State University, a Carnegie-classified doctoral high research activity university and teaching institution founded in 1901, attracts students from around the world to its Idaho campuses. At the main campus in Pocatello, and at locations in Meridian, Idaho Falls and Twin Falls, ISU has nine Colleges, a Graduate School and a Division of Health Sciences that together offer more than 250 certificate and degree programs. More than 12,000 students attend ISU. Idaho State University is the state's designated lead institution in health professions.
---
Categories: