Idaho State University Chamber Choir to present annual Holiday Concert Nov. 22
November 15, 2019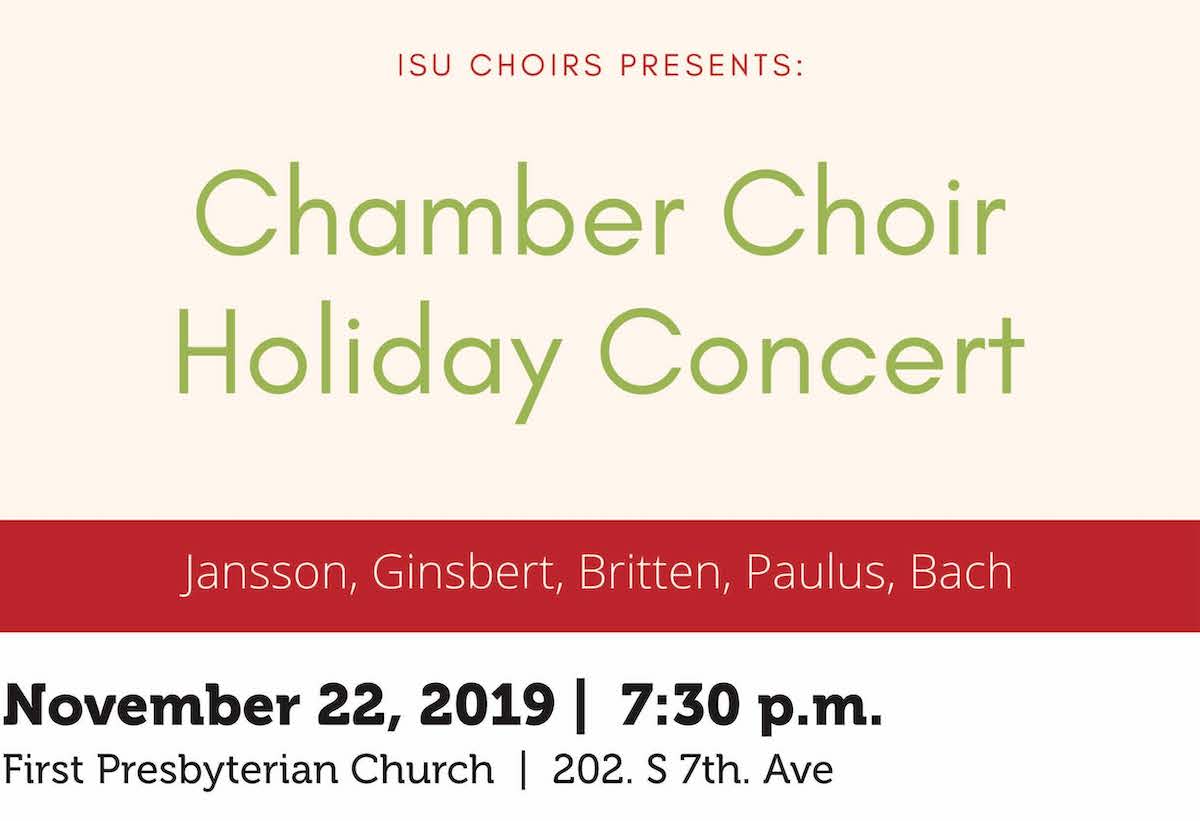 POCATELLO - The Idaho State University Chamber Choir will present its annual Holiday Concert at 7:30 p.m. on Friday, Nov. 22, in the sanctuary of the First Presbyterian Church in Pocatello.
"We will perform a wide variety of choral music well suited to the holiday season, and the transition of fall to winter," said Scott Anderson, ISU director of choral activities. "The beautiful sanctuary of the First Presbyterian Church is an ideal space for the Chamber Choir and we appreciate the opportunity to invite the community to share our program there. We are also excited that the First Presbyterian Bell Choir, under the direction of Christopher Roskelley, will perform during the first half of the Nov. 22 concert."
The ISU Chamber Choir will perform "Ehre sei dir, Gott, gesungen" from the fourth section of the "Weihnachts Oratorium" by Johann Sebastian Bach, with pianist, Natalia Lauk. The program will also include Benjamin Britten's setting of "A Hymn to the Virgin," "Abendlied," by Johannes Brahms, the Hebrew setting of "Hine ma tov" by Neil Ginsberg, featuring flutist Samantha Lai.
The choir will feature "To the Mothers in Brazil: Salve Regina," an improvisatory choral arrangement by Gunnar Eriksson of Lars Jansson's composition for the Lars Jansson Jazz Trio. The concert will end with "Silent Night," arranged by American composer Stephen Paulus. Pianist Lauk will also be featured in the pieces by Brahms, Ginsberg, and Erisson.
A donation of $5 per person is suggested for admission, however, all are invited to attend, regardless of their ability to offer a donation.