Congressman Simpson visits ISU campus to honor Construction Combine program
November 7, 2019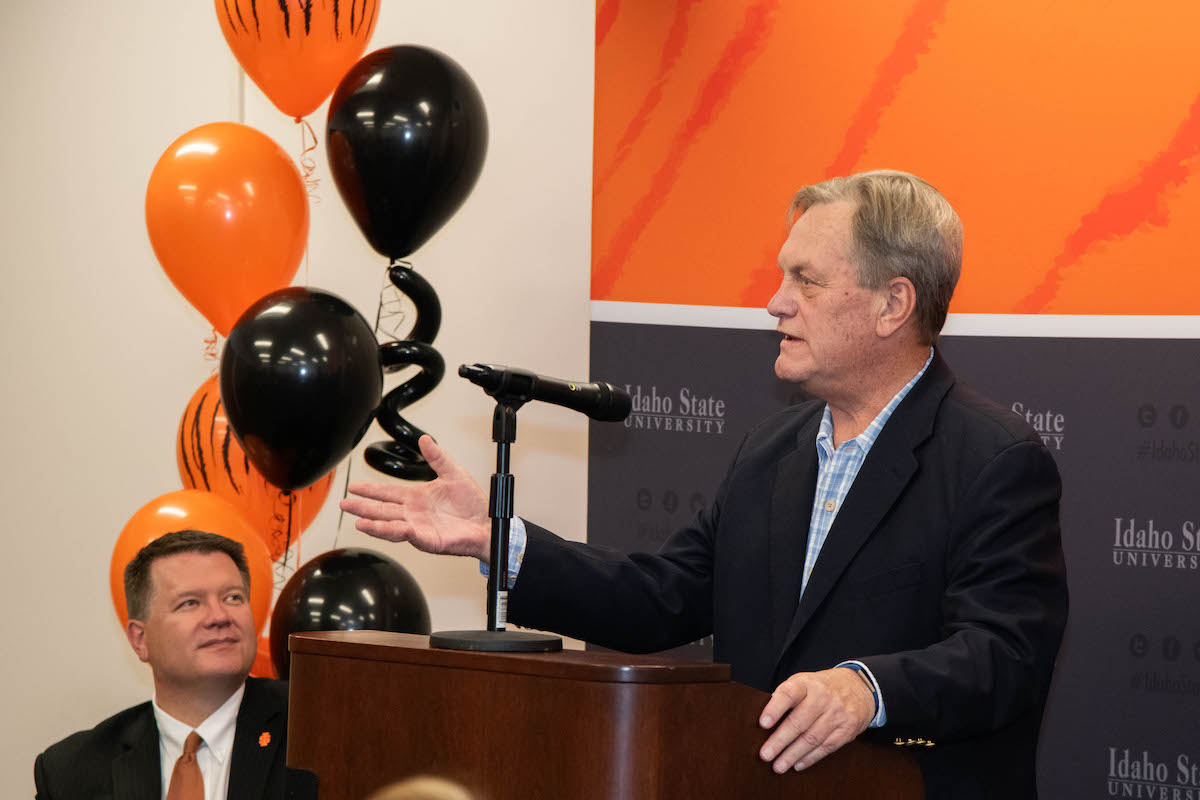 POCATELLO – Idaho Congressman Mike Simpson recognized Idaho State University College of Technology's Construction Combine with an entry into the Congressional Record and by visiting ISU Eames Advanced Technical Education and Innovations Complex on Thursday, Nov. 7.
The Construction Combine is a unique program developed by the ISU College of Technology Continuing Education and Workforce Training Division. The program has partnered with Home Depot to address a national skilled labor shortage in the construction industry. Simpson will met with ISU officials, local government officials, contractors, local businessmen and ISU Continuing Education and Workforce Training personnel. The program, which started in Pocatello in 2018, expanded in 2019 to six locations around Idaho through the state's regional technical colleges and their communities. The event has received interest around the country and will expand into Washington state in 2020.
"We give and cite in the Congressional Record periodically to great things that have happened in Idaho," Simpson said. "When I heard about what was going on with this Construction Combine and what was going on with career and technical education in Idaho, which is so vitally important throughout the state, I thought the program deserved some recognition."
Simpson said during a period of low unemployment and a tight labor market one of the most important and difficult things for businesses is finding the labor they need and ISU's Construction Combine addresses that need.
"I congratulate all of you on the work you've done and all your efforts to make these programs successful," Simpson said. "I just wanted to come by and give you this Congressional Record (award) and thank you for all that you've done."
ISU President Kevin Satterlee thanked Simpson for entering the program in the Congressional Record and for stopping by ISU to deliver it in-person on campus. Satterlee also said the award demonstrates the relationship ISU has with its constituents.
"There is no such thing as a great community without a great university and there's no such thing as a great university without a great community," Satterlee said. "I think what we've demonstrated here today is exactly that."
Inspired by the NFL Combine, the Construction Combine attracts, trains and coordinates participants in hands-on-learning projects. Local contractors provide the training and mentorship they want to see in their employees, and then they have the opportunity to hire those workers who have demonstrated the newly-acquired construction skills they need.
The next Construction Combine in Pocatello will be held in March 2020. It will offer construction sessions on framing, roofing, concrete, electrical, plumbing, flooring and siding.
"When the community and industry and education come together we become a really unstoppable force," said Gary Salazar, director of ISU's Continuing Education and Workforce Training.
For additional information visit https://constructioncombine.org/.
---
Categories: