Career Center's Jeff Christensen honored as Idaho career development leader of year
August 29, 2019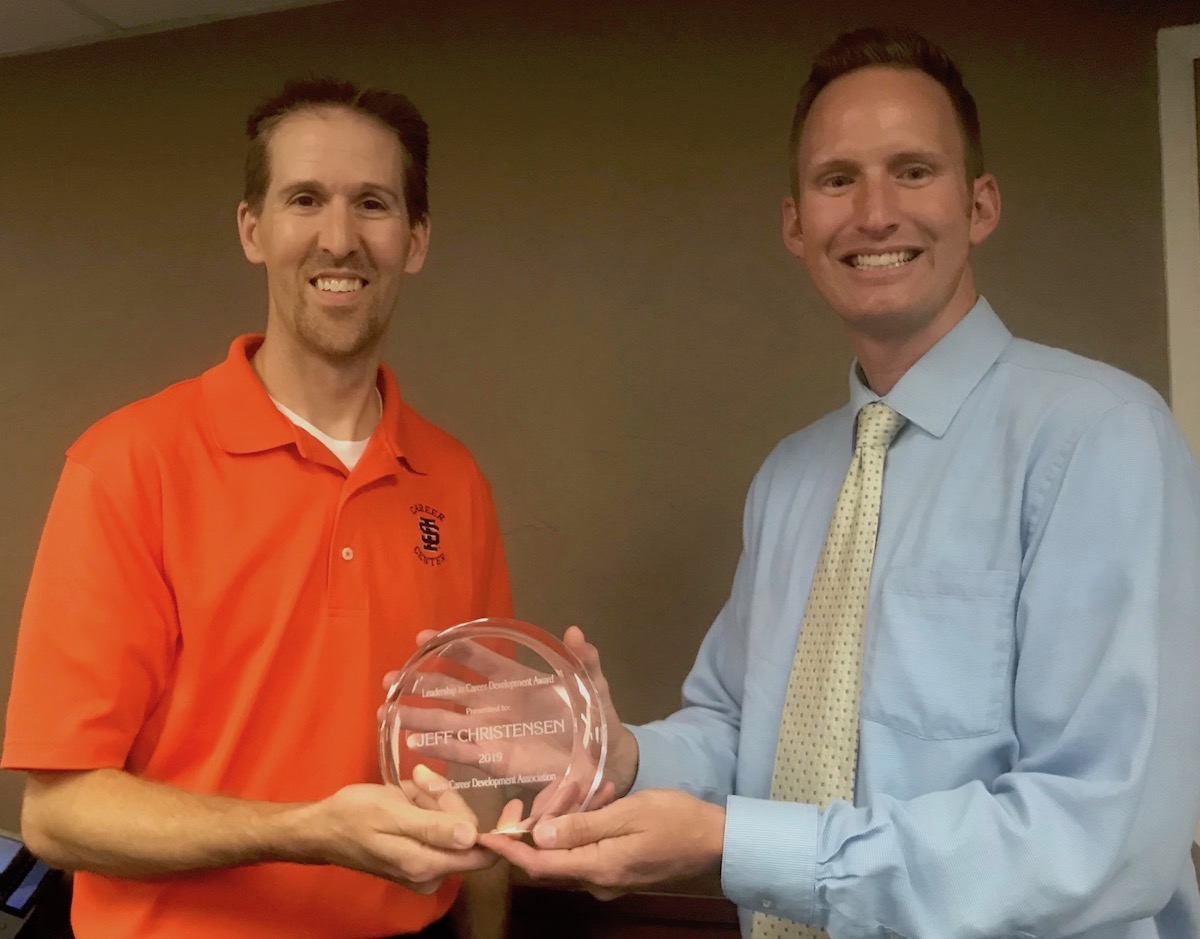 Jeff Christensen, a career counselor at the ISU Career Center, was presented with the Idaho Career Development Leader of the Year Award by Garrett Nilsson, president elect of Idaho Career Development Association.
Christensen was announced as the recipient of the award at the Idaho Career Development Association's annual conference held in April in Boise, but received a plaque from Nilsson at an informal awards ceremony at the Career Center on Aug. 28 that was attended by his colleagues and Lyn Redington, ISU vice president of student affairs.
"It is always good to recognize someone who has done a great job," Nilsson said. "Jeff is very deserving of the award and I appreciate what you've done for career development in Idaho."
Christensen and Lance Erickson, Career Center director, estimated that Christensen has likely served about 10,000 students during his six-plus years at ISU as a career counselor, through counseling appointments, teaching classes, making presentations and other contacts.
"His passion comes through when he is helping students," Erickson said. "I'm very appreciative of what Jeff does and the positive impact he has on our students here at ISU."
Erickson said that Christensen stepped up when a former Career Path Intern (CPI) coordinator had to leave the job unexpectedly because of health reasons.
"I turned to Jeff and said 'you have to help me out here' and Jeff ran the CPI program for almost a year, all the while being a career counselor as well," Erickson said. "He did a tremendous job."
Christensen's connection with the Career Center predates the years he has worked there. When he was a student about 11 years ago, Christensen used the Career Center's services, and had Erickson as a counselor.
"I came to the Career Center to figure out what I wanted to do when I grew up," Christensen said.
He'd grown up on a farm and was good at operating and fixing equipment, and had been in ISU's auto body program. However, working with Erickson, Christensen took some skill assessments, which indicated his personality was "geared toward helping people." He discussed becoming a career counselor with Erickson, who recommended Christensen get a bachelor's degree and follow it up with a master's degree in counseling.
"So I made a six-year plan to do that, and ended up doing my internship here, and miracles happened, where I was able to get hired on here full time," Christensen said. "It is perfect job. I've gone full circle and it has been fantastic. I owe this award to everybody that we work with."