Scores of ISU Bengal Bridge students to help beautify Old Town Pocatello on July 5
June 27, 2018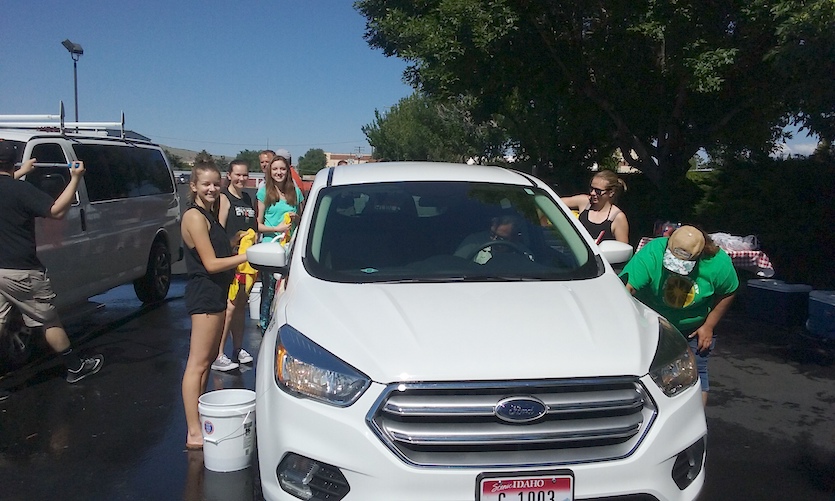 POCATELLO – More than 220 students from Idaho State's Bengal Bridge Program will head to Old Town Pocatello to complete public art and beautification projects July 5 from 1 to 5 p.m.
The students will be accompanied by 12 ISU faculty and staff and will divide into 12 teams devoted to an array of projects. They'll decoratively paint crosswalks on North Union Pacific Avenue, paint Bengal paw prints in the area's parking lots, paint and refresh blue lamp posts, paint some business fronts and complete a variety of other projects.
"We are very excited to welcome the students and to be working with the Bengal Bridge program this summer," said Stephanie Palagi, Old Town Pocatello executive director. "They'll be doing public art and beautification that fits into our arts culture downtown and helps promote the relationship between Old Town and Idaho State University."
Bengal Bridge, a program within the ISU Division of Enrollment Management First Year Transition program, is a seven-week summer college semester for recently graduated high school seniors. Students have the opportunity to earn 9-10 college credits at a reduced fee. The program is designed to give students extra help in transitioning to college. The program offers small class and additional support, while also helping them become accustomed to campus living.
"This is the first time we've done a service project like this, connecting with the community," said Misty Prigent, Bengal Bridge coordinator. "Our intention with this is to help make the students feel like Pocatello is their community. If they learn more about it they may give back more to it."
This is the sixth year ISU has offered the Bengal Bridge program that continues to grow. Last year, the program had 167 participants and has grown to 220-plus this summer. The students come from throughout southern Idaho, and many aren't familiar with Pocatello. Most of them also live on campus.
"This is something we thought we could do to help them really integrate into the city," said Amber Greening, with the ISU Student Opportunity Development office, that works to provide experiential student learning experiences. "Our main goal is to make them feel like this is their home."
A half day's work could create long-term connections for the students to the community.
"We are excited they are doing a visual project that they can show other people," Prigent said. "They can come back years later and remember that day they worked with their friends. This could be a stepping stone for a continued relationship with Old Town."
---
Categories: