Non-traditional student Holly Powell returns to school after two decades, will walk at commencement
May 1, 2018
Gregory Barker, Business Graduate Assistant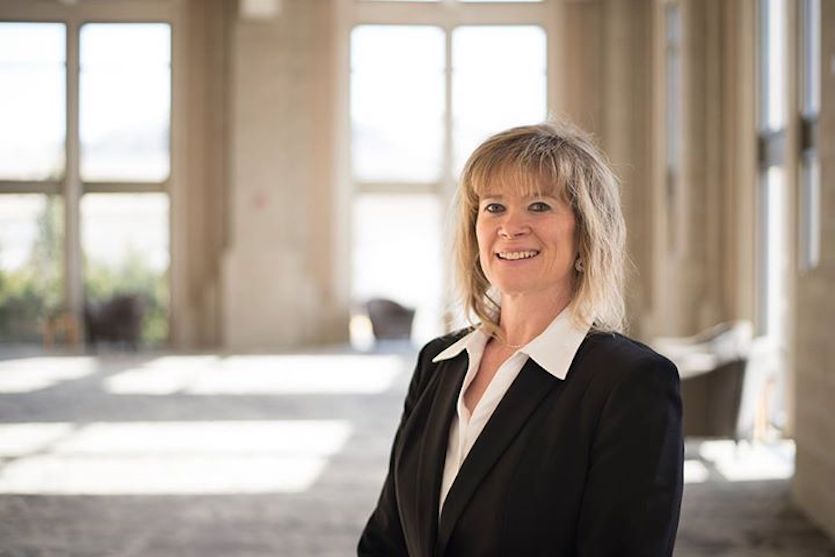 POCATELLO – Holly Powell, a standout first-generation, non-traditional student in the Idaho State University College of Business, has been honored as the Outstanding Business Student for the Master of Business Administration program.
She will be presented her award at 1 p.m. Friday, May 4, at the Frazier Auditorium.
After earning her undergraduate degree in journalism from Brigham Young University, Powell spent two decades away from school while raising a family before deciding to come back for a Master of Business Administration. Although neither of Powell's parents are college educated, her dedication to education is clearly demonstrated by the sacrifices she has made to obtain it. She has completed her degree while working as treasurer for the City of Blackfoot and while commuting several times a week from Rigby — a 130-mile round trip.
Powell chose to come to ISU because of its proximity to home and the quality of education. Powell says that "ISU is a treasure and an opportunity" that she greatly appreciates; in fact, her personal motto while earning her degree has been, "You're never too old to ISU." Considering that she still has 20 or more years to make a difference in the industry, Powell said "education is never a waste." This insatiable desire to learn coupled with her strong work ethic, effective leadership style, and academic excellence have all contributed to her selection as this year's outstanding MBA student.
Showcasing her natural leadership capability, Powell is this year's CEO of the ISU team competing in the International Collegiate Business Strategy Competition (ICBSC). Powell is the first ISU student to participate in the competition twice, an impressive feat given the rigorous selection process with an applicant pool that expands each year. Although the pressure has been great to perform well in the competition and to represent both ISU and the team's sponsor, Idaho Central Credit Union, Powell has borne the burden well. In addition to the normal reporting of business performance, she most hopes to convey to the judges the unique cohesion of this year's team.
The team's faculty advisor, Alex Bolinger, assistant professor of management at ISU, stated, "As the CEO of the ICBSC team that will be competing in Anaheim, Powell has done so much work behind the scenes to facilitate the work of the team. She is very good at stepping back and giving team members credit, but everyone on the team recognizes just how valuable she is."
Powell praised her team members for their hard work.
"They have been cohesive from the start, and willing to put in 25-30 hours in a week to work through a challenge," Powell said. "Other teams tend to start the blame game when something goes wrong, but that hasn't happened in our team."
The team's cohesion is due in part to Powell's dedication to helping them function well.
"No amount of energy is too great for her if it means getting a task done right," Bolinger said. "For instance, Holly has commuted to Pocatello multiple times a week the last several semesters despite living in Rigby. For complex conversations about strategy, she comes in especially to meet with members of the ICBSC team face-to-face rather than via email or chat."
The competition has been the highlight of Powell's MBA experience because it has been the best bridge between academia and the outside world. The competition breaks down the silos of traditional subject areas and has forced the team to think holistically about running a company with all of its ups and downs. It has given her an appreciation for the incredible pressure that CEOs and executive board members experience and respect for all those who run their own company.
As another bridge between the academic and "real world," Powell presented her own professional case study at the Society for Case Research workshop in Kansas City last summer. The process started when Bolinger approached Powell to gauge her interest in turning her real-world negotiation class paper into a professional case study. Seeing this as yet another unique opportunity to learn, she accepted the invitation and went through the detailed process of co-authoring the case with Bolinger. She revised the document eight times before sending it in to the Case Research workshop, then presented it to a group of faculty by herself which is particularly uncommon. Bolinger noted that because of her unique work ethic in revising the submitted document, "her draft of the case was more polished than the drafts of the cases of many of the faculty at that workshop." The case will soon be published in the Journal of Case Studies.
Powell speaks of the pleasure it was to write the case, seeing it as a challenging educational adventure: learning for the sake of learning. It is this love of learning that stands out in her nomination.
"It is clear that Holly loves to learn and she seeks knowledge not only for how it will advance her career, but also because learning is an end in itself," Bolinger said.
"She is very reflective and good at acknowledging how she can improve and what it will take to get her there. It is a treat to work with a student like Holly because she is thirsty for knowledge and she sees joy in the learning process
Powell hopes to write more cases in the future so that MBA students like her will have the benefit of applying theory to the complexity of real-world problems.
As is characteristic of other ISU students, Powell exemplifies what Bolinger refers to as the "Eastern Idaho Ethic."
"One of the things that I enjoy about teaching at Idaho State is that so many of our students come from farm families and understand the value of hard work," Bolinger said. "On the whole, our students tend to dig in and work – there is very little sense of entitlement. They may not always come from families where their parents went to college and they have many responsibilities outside of school, but they tend to value school and put in tremendous effort to succeed. Powell exemplifies the very best of eastern Idaho."
After graduation, Powell plans to continue to apply the tools and confidence she has gained from her graduate education to her position as treasurer for the City of Blackfoot, where she plans to continue to oversee the $6.5 million in grant funding that she has helped secure during her tenure.
---
Categories: