ISU's Healthy Bengal Coalition has designated March as Opioid Awareness Month
March 2, 2018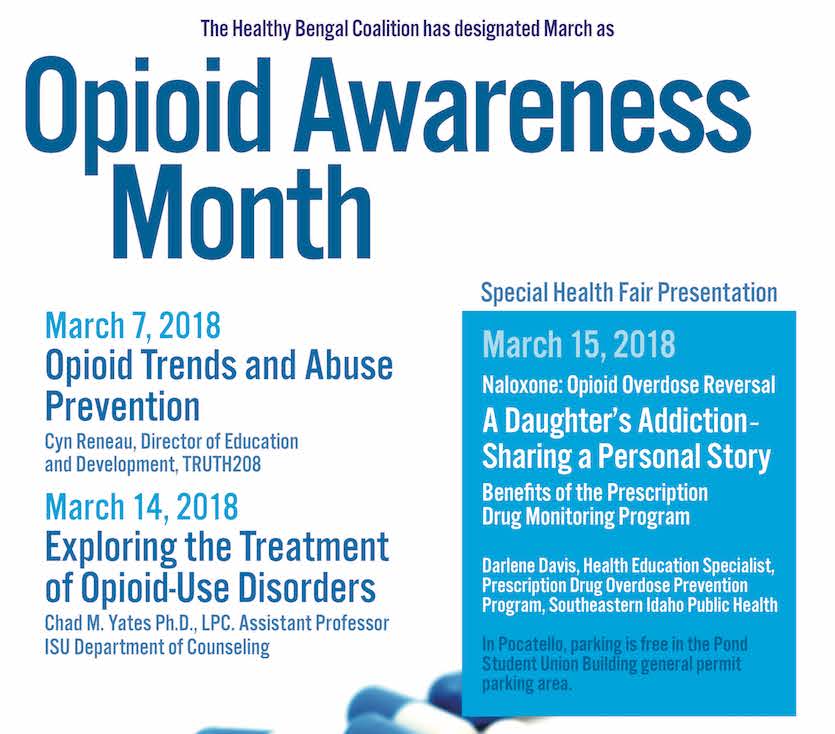 POCATELLO – Idaho State University's Healthy Bengal Coalition has designated March as "Opioid Awareness Month" and is offering three seminars to promote awareness and education about the opioid crisis.
The first two seminars are the first and second Wednesdays of the month as a part of "Wellness Wednesday" seminar series on March 7 and 14. The third seminar is on Thursday, March 15, in conjunction with the ISU Health Fair.
All three presentations are from 12:10 to 12:50 p.m. with question-and-answer sessions from 12:50 to 12:55 p.m. and will be broadcast to the Idaho Falls, Meridian, and Twin Falls campuses.
Locations for all three seminars are: Pocatello—Eli M. Oboler Library B07; Idaho Falls-Tingey Administration Building 279; Meridian-room 687; Twin Falls-room C89
Parking is available at pay-for-parking meters on March 7 and 14 for $1 for an hour. Free parking is available in the Pond Student Union Building general parking area on March 15.
Both ISU and surrounding community members are encouraged to attend all three seminars. Attendees are welcome to bring a lunch to all three seminars. Please be aware that seating is limited, so plan to arrive early to secure a place to sit.
First seminar—March 7. Title: "Opioid Trends and Abuse Prevention," Presenter: Cyn Reneau, Director of Education and Development, TRUTH208
Second seminar—March 14. Title: "Exploring the Treatment of Opioid Use Disorders," Presenter: Chad M. Yates Ph.D., LPC. Assistant Professor, ISU Department of Counseling
Third seminar—March 15. Title: "Naloxone: Opioid Overdose Reversal, A Daughter's Addiction--Sharing a Personal Story of the Benefits of the Prescription Drug Monitoring Program," Presenter: Darlene Davis, Health Education Specialist, Prescription Drug Overdose Prevention Program, Southeastern Idaho Public Health
For more information on the seminars, contact the ISU Wellness Center at 208-282-2117.
---
Categories: