ISU students to participate in Archaeology Field School in Kimberly this May at mammoth site
April 10, 2018
POCATELLO – This May, Idaho State University anthropology students will have the opportunity to participate in the 2018 ISU Archaeology Field School. Students will spend four weeks in Kimberly, Idaho, at the Olsen Mammoth Site looking for the remains of a Columbian Mammoth.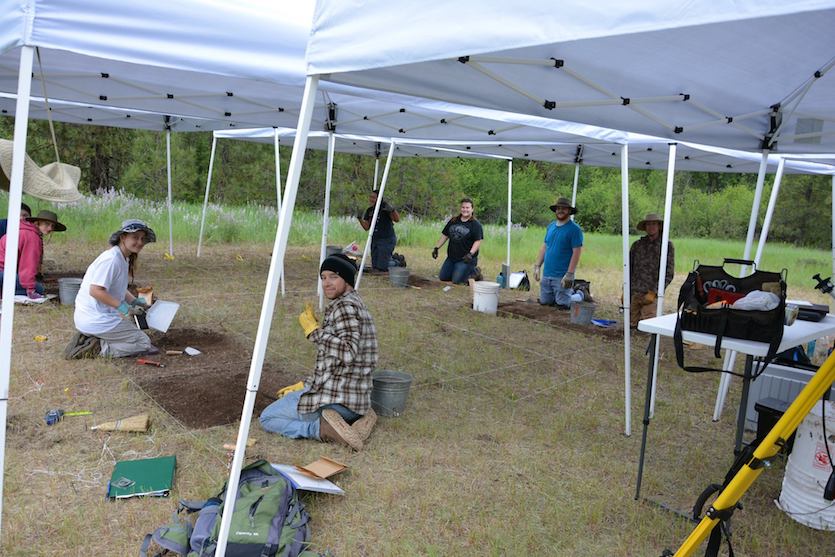 The Olsen Mammoth Site is located at the edge of the Snake River close to Shoshoni Falls. In 2012, the Olsen family was building a pond and encountered large bones while digging. Those bones ended up being a mammoth tusk, a partial jaw and vertebrae. Only 10 to 15 percent of the mammoth was recovered at that time.
Andy Speer, assistant professor in the Department of Anthropology and Director of the Archaeology Field School, acquired funding to conduct a ground penetrating radar (GPR) study to see where the remainder of the mammoth were located. The GPR broadcasts an ultra-high frequency (UHF) radio signal into the ground to reflect off of materials that might be hidden in the soil. Dr. Speer used the GPR to determine where the remains of the mammoth were buried and may have discovered the remains of another mammoth. The data recovered from the GPR will help direct precision excavation of the site with less chance of damaging the finds.
During the field school, students will learn advanced excavation techniques, cutting-edge survey techniques and mapping with a semi-robotic TotalStation (survey instrument), 3-D laser scanning of the site, and artifact/bone identification. Additionally, students will participate in evening workshops covering flintknapping, geoarchaeology and Pleistocene megafauna.
The findings of the field school will be housed at the Idaho Museum of Natural History for two years to give Speer and his team time to analyze, document and stabilize the mammoth remains.
New for this year, local high school students will have the opportunity to participate in the field school as well.
For more information on the field school, please contact Andy Speer at (208) 282-2629 or (210) 885-1815 or speechar@isu.edu.