ISU Professor Cindy Seiger honored at 10-Year celebration of Pocatello Fit and Fall Proof program
January 16, 2018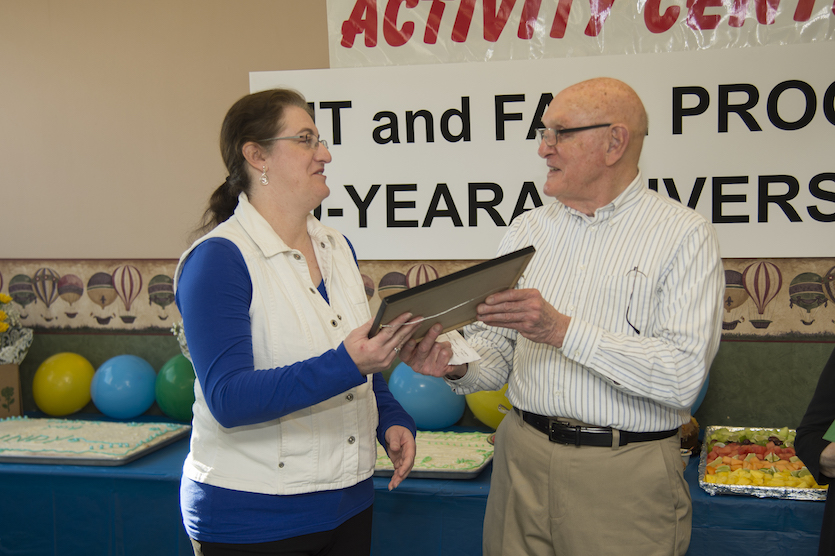 POCATELLO – It's all about "using it or losing it" and one participant said he was able to "skate and ski" with his grandsons because of it. The Pocatello Senior Activity Center's Fit and Fall Proof program celebrated its 10-year anniversary, Tuesday, Jan 16. Idaho State University's Cindy Seiger, associate professor of physical therapy, was recognized at event because of her involvement with the program.
The Fit and Fall Proof program is taught statewide to decrease a person's fall risk due to weak muscles, limited range of motion, deconditioning or poor balance. The Pocatello Senior Activity Center's program is unique, however, because of its involvement of Seiger and students in ISU physical therapy doctoral program.
"Number 1, I think she cares," said Maxine Wall, a participant in the twice weekly classes, at the celebration ceremony. "Number 2, I think she loves us."
To that, Seiger replied, "I do."
The ISU professor has been coming to the class and bringing ISU students since its first year, volunteering about three hours a week.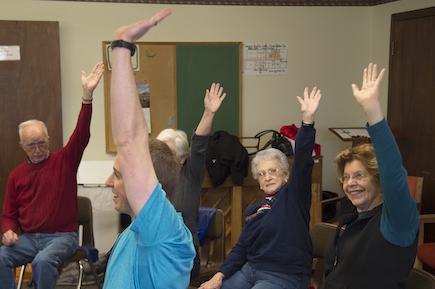 "The class takes care of the physical needs of senior citizens and the educational needs of ISU students," said Payson Fugitt, another class participant who has been involved with it for a decade. "The students receive invaluable experience working with this group."
"ISU has incorporated our class to provide experience for students," he continued, "who are getting trained as physical therapists to understand the geriatric population. We are helping ISU and they are helping us. The whole program is a collaboration."
The collaboration extends beyond these partners and includes the Idaho Department of Health and Welfare and Southeast Idaho Public Health.
"The program is amazing," said Michelle Butterfield, health education specialist for Southeastern Idaho Public Health, who oversees nine other sites in Southeast Idaho that have Fit and Fall Proof classes. "A nice problem here is that the program is getting bigger and we might have to open up a new session here at the Senior Activity Center to accommodate the demand for it."
Seiger said she was blessed to be part of the Fit and Fall Proof and was thankful for the opportunity and experience it has provided her.
"The class participants are what keep me involved with the program as they have supported me and the program, willingly helped the physical therapy student class leaders develop skills needed to teach groups, and given me their friendship," Seiger said. "I have loved meeting and getting to know each person who has attended the class over the past 10 years."
Her ISU students, too, expressed their appreciation of the program.
"I think it is a great program to teach physical skills to people and improve their strength and help them with their balance," said Devin Bean, a second-year doctor of physical therapy student who began teaching Fit and Fall Proof classes at the center this semester. "But it also teaches me how to interact with people. There are things I learn about being a physical therapist and being clear in instruction. From working with them, I get really good feedback."
Photo info: Devin Bean, a second-year doctor of physical therapy student in foreground wearing blue shirt, teaching a Fit and Fall Proof class.
---
Categories: