ISU Physics Professor Steven Shropshire awarded STEM Professional of the Year
March 29, 2018

POCATELLO – The 2018 inaugural STEM Professional of the Year Award was presented to Idaho State University physics Professor Steven L. Shropshire on behalf of the engineering programs at ISU and the Eastern Idaho Engineering Council (EIEC).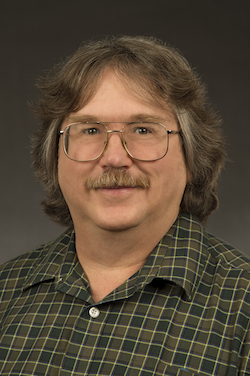 Shropshire was recognized for his many contributions to the STEM (science, technology, engineering and mathematics) fields. He received the award at the EIEC Engineers Week Banquet held earlier this year.
Shropshire's roots are in Idaho, and also in education. His father taught chemistry in high school and like his father, Steven carried on the tradition of teaching science to young minds. Shropshire's education includes multiple degrees in physics and mathematics. After receiving his Doctor of Philosophy degree in physics from Washington State University in 1991, he joined the ISU faculty and has been at ISU ever since.
His accomplishments are many and include awards, research, publications, invited speakerships, leadership roles, volunteer activities, outreach programs, advisory roles and grants. Shropshire has taught many physics classes, and his past students number in the hundreds. His outreach programs are nationally recognized and have reached many thousands of students.
"Shropshire introduces students early into the excitement of STEM education and careers," said Ron Luedeman, EIEC Award Chair. "He loves what he does and his passion for the subject inspires others."
Past students recall taking Shropshire's courses at ISU, and remember him as being very approachable, and with high standards. They relate that Shropshire put a lot of thought into his classes, worked very hard to relate physics principles to the masses and he was good at it, Luedeman said.
"What seems to make Steve an exceptional educator is his use of demonstrations and explaining things in the language of student rather than just reciting what's in a physics book and deriving equations," said Gene Stuffle, EIEC executive director. "He brings physics alive for everyone who is lucky enough to see his demonstrations. One might wonder how many kids Steve has inspired to pursue careers in STEM fields."
Shropshire has instilled in students a love of science and math and clearly leads by example and has touched the lives of many, Stuffle said.
---
Categories: