ISU Phi Kappa Phi awards "Let the Love of Learning Rule Humanity" Scholarship to Paula Arinze
April 20, 2018

POCATELLO – Idaho State University's Honor Society of Phi Kappa Phi has awarded the "Let the Love of Learning Rule Humanity" fall 2018 scholarship to Paula Arinze.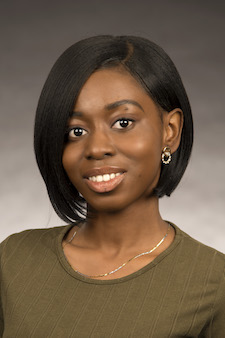 Arinze was selected from a competitive pool of applicants by three executive board members based on her academic record, letters of recommendation and an essay outlining her career goals.
Arinze is a senior in the healthcare administration bachelor's degree program. She is an international student from Nigeria who has taken advantage of all the opportunities ISU has to offer to pursue her "love of learning." She has had the opportunity to participate in research where she studied and characterized a periodic paralysis disease-causing mutation. She currently works as a Career Path Intern as a finance and marketing intern in the ISU Department of Sports Science.
Arinze is scheduled to graduate in May 2019 with a bachelor's degree in healthcare administration. In fall 2019, she plans to pursue dual master's degrees in Business Administration and Public Health
Her long-term goal is to return to her home country and put her healthcare administration and business organizational skills to work.
The executive board of the Honor Society of Phi Kappa Phi awards this scholarship to recognize a top student who exemplifies a "love of learning" and demonstrates a strong commitment to service. Arinze will be inducted into the ISU Phi Kappa Phi Chapter, along with other invitees, on April 26 at the Juniper Hills Country Club in Pocatello.
For more information, contact Rudy Kovacs at kovarudo@isu.edu.
---
Categories: