ISU music faculty members Geoffrey Friedley and Kori Bond to perform Schubert's "Winterreise"
March 1, 2018

POCATELLO – On March 3 at 7:30 p.m., Idaho State University music faculty members Geoffrey Friedley, tenor, and Kori Bond, pianist, will perform Franz Schubert's "Winterreise" in ISU's Goranson Hall.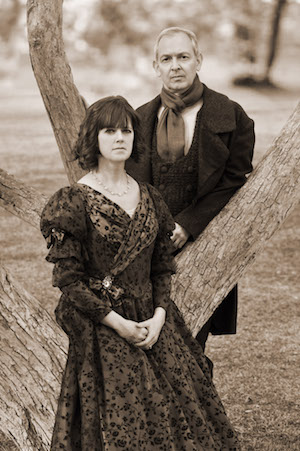 The performance has been staged by Diana Livingston Friedley, professor of music and costumed by Tara Young, professor of theatre and university costume designer. Admission is free, and donations will support the ISU music department and its students.
"Winterreise" is a cycle of 24 German songs by Franz Schubert (1797-1828) and includes some of the last songs that the Romantic composer completed before his untimely death from complications related to syphilis. Settings of poetry by Wilhelm Mueller (1794-1827), the songs trace the "winter journey" of a young man whose hopes for love and marriage have gone awry.
In the cycle, the protagonist leaves his beloved's house under cover of night, setting out across snow-covered roads and fields. As he journeys forth, he confronts images common in 19th-century art, literature, and music: a linden tree, a frozen river, forbidding mountain passes, ravens, snowy village streets, barking dogs, a crow, and of course a cemetery. These scenes evoke from the traveler a flood of emotions that follow on his failed romance, from grief to longing to anger to mania to calm resignation.
The duo previously performed "Winterreise" on Feb. 3 at the St. Thomas Chamber Music Series in Sun Valley.
---
Categories: