ISU graduate Lynette Dixey to celebrate with degree 32 years after started
May 1, 2018
Melissa Lee, Marketing Director, Arts and Letters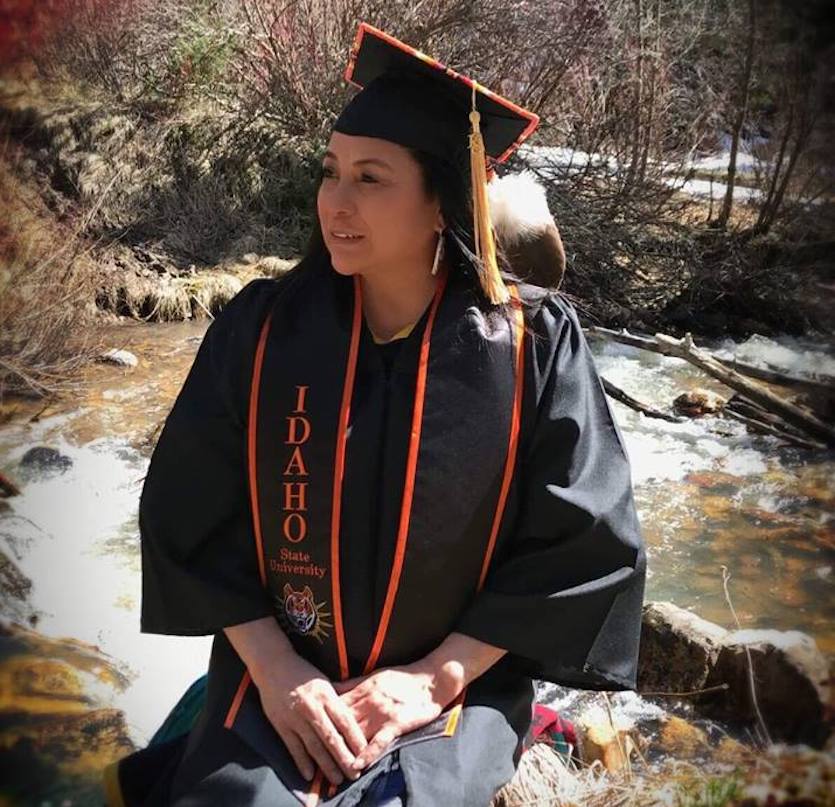 POCATELLO – In 1984, Lynette Dixey graduated from Blackfoot High School and packed up her things and moved to Glendive, Montana, to play basketball at Dawson Community College. But Dixey did not graduate with a degree from Dawson, she returned home to give birth to her daughter. This May, 33 years after starting at Dawson Community College, Dixey will walk across the stage at graduation with a bachelor's degree in political science from Idaho State University.
Dixey tried to go back to school over the last 33 years, but always ended up quitting. She said the hardest thing about continuing to go was stability.
"We were always moving, had different jobs, and relationships didn't work. We just followed the ups and downs of life," she said.
Dixey worked as a Revenue Audit Clerk at Fort Hall Casinos for seven years and as the Outreach Coordinator/Administrative Assistant with the Title IV-D Child Support Services before she was appointed the Interim Manager. Following the Interim Manager position, Dixey applied for and got the job working for the Shoshone-Bannock Tribes as a child support program manager where she oversees and administers the Shoshone-Bannock Tribes Title IV-D Support Services Program.
Dixey decided to figure out what she needed to get for her associate's degree in General Studies and found out she was only one science class short. After receiving her associate's in 2017, she decided to finally go for her bachelor's degree as she was only 27 credits short. Working for the Tribes, she is allowed to take ten hours a week for education hours and uses her leave from work if she needs more time.
"I took three classes in the fall, four classes in the spring, and two in the summer," Dixey said. "This semester has been tough but I have been trying hard."
One thing Dixey has enjoyed about coming back to school is the eye opening experiences she's had with younger, traditional students. She said the students and their different viewpoints have caused her to look at the world and shift her focus from just her family and the reservation.
"Lynette is such an incredible student," said Kellee Kirkpatrick, professor in the Department of Political Science and one of Dixey's professors. "She is hard-working and dedicated and always turns in quality work. I have been so impressed with how Lynette has been able to balance going to school and a full-time job. Doing this takes a lot of discipline and commitment, and I am proud of what she has achieved."
Dixey said her two daughters and three grandchildren helped her find the motivation to finish her bachelor's degree. Her daughter received her bachelor's degree in accounting from Utah State University and her other daughter is attending Haskell Indians University in Kansas.
Dixey's degree will help her in her current position as she looks to grow the Tribe's child support program as she will be able to use what she has learned.
If Dixey could give advice to adults in her situation she said tell them, "Just go for it and don't give up. You are so close, so just do it!" And for students who are currently getting their degree she said, "Continue your education while you can. When you are older and have more responsibilities, it is much harder to come back and finish what you've started."
---
Categories: