ISU Choirs to present Mid-Winter Concert, 7:30 p.m. Friday, March 2
March 1, 2018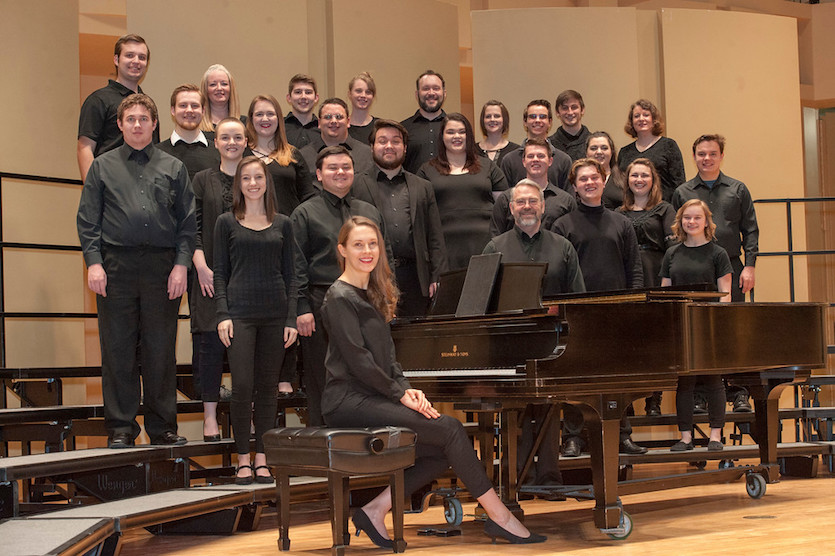 POCATELLO – The Idaho State University Department of Music will present the ISU Choirs Mid-Winter Concert on Friday, March 2 at 7:30 p.m. in Jensen Grand Concert Hall in the Stephens Performing Arts Center on the ISU campus.
Scott Anderson, director of choral activities, will conduct the ISU Chamber Choir and ISU Concert Choir in performance of a wide variety of choral music in the exquisite acoustics of Jensen Hall.
"The ISU Chamber Choir is looking forward to presenting its program which was prepared to be featured and performed in Portland, Oregon on Saturday, March 10 during the Northwest Division Conference of the American Choral Directors Association," Anderson said. "After a very competitive audition process involving submitted recordings of college and university choirs from six states, the Chamber Choir was selected to be one of six University mixed choirs to perform at the Conference."
The program will include G. F. Handel's "O Come, let us sing unto the Lord," featuring pianist Natalia Lauk; "Dominus Vobiscum" by American-Haitian composer Sydney Guillaume, featuring soloists Kasey Sullivan and Joe Marley; Josef Rheinberger's setting of "Diebstahl", featuring Lauk; Latvian composer Eriks Esenvalds new composition, "The Cloud", with text by Sarah Teasdale; "The Eight Laughters" by Korean composer Hyo-Won Woo, featuring multiple soloists; and Rollo Dilworth's setting "Courage, My Soul," an African American gospel piece, featuring soloist Matt Spaletta, and pianist Natalia Lauk.
"We had a wonderful opportunity to work with composer Sydney Guillaume on his Haitian arrangement via a Skype session," Andersons said. "The experience was extraordinary for everyone."
The 50-voice ISU Concert Choir will perform two movements from "Vesperae Solennes de Confessore", the first movement, "Dixit Dominus", and fifth movement,
"Laudate Dominum", which will feature one of the Concert Choir sopranos. The program also includes "Dulaman", an Irish Gaelic folksong arranged by David Mooney. ISU voice major, Orla O'Connor, who is from Ireland, has coached the singers on the pronunciation of a dialect of Gaelic specific to her part of the country.
Pianist Lauk, violinist Hyrie Choi, and cellist, Eleanor Cox will all be featured in the Concert Choir's presentation of René Clausen's setting of "Oh My Luve's Like a Red, Red Rose." The concert will close with the rousing gospel blues arrangement of "John the Revelator" by Paul Caldwell and Sean Ivory, featuring pianist Lauk.
Tickets for the ISU Choirs Mid-Winter Concert may be purchased online at https://isu.edu/tickets/, or by calling the Stephens Center Box Office at (208)282-3595. Ticket prices are $8 for adults, $6 for ISU faculty and staff, $4 for precollege students, and free for ISU Students with valid Bengal ID cards. Children under the age of 6 years will not be admitted into concert.
---
Categories: