ISU Choirs Spring Concert set April 20
April 16, 2018
POCATELLO – The Idaho State University Choirs Spring Concert will take place on April 20 at 7:30 p.m. in the L.E. and Thelma E. Stephens Performing Arts Center Joseph C. and Cheryl H. Jensen Grand Concert Hall.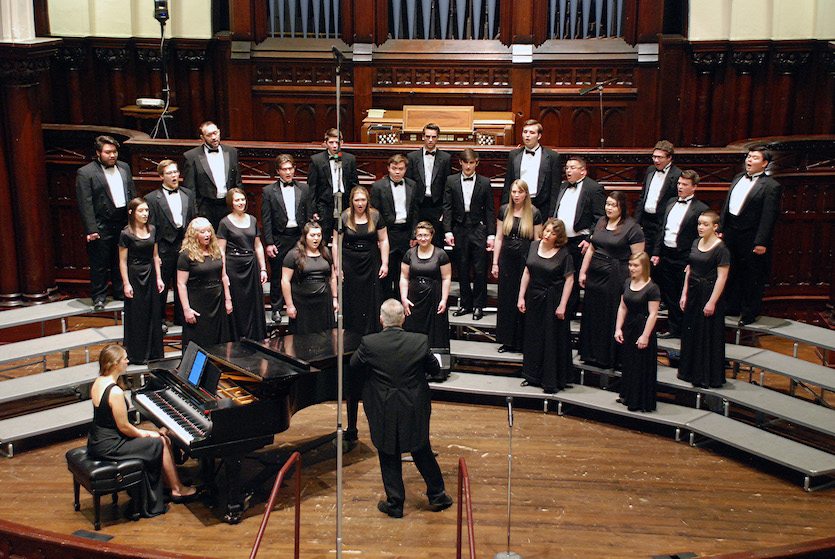 The concert will feature the ISU Chamber Choir, with 24 voices; the ISU Concert Choir, with 50 voices; Scott Anderson, conductor; and Natalia Lauk, piano. Special guests include Century High School Century Singers with Elissa Jones as the conductor and Jason Bartosic as the pianist.
The ISU Chamber Choir will perform the first choral movement from J.S. Bach's "Cantata No. 4," "Christ lag in Todesbanden, Kyrie", from the "Requiem" by Maurice Duruflé, Claudio Monteverdi's madrigal,"Si ch'io vorrei morire," "Eight Laughters" by Korean composer,
Hyo-Won Woo and "Courage, My Soul and African-American Spiritual" by Roll Dilworth. Tenor-soloist Matt Spaletta, and pianist Lauk will be featured during the Dilworth piece.
The Chamber Choir was chosen to perform at the Northwest Conference of the American Choral Directors Association in Portland, Oregon, last month as one of six university choirs from the six-state region.
The 50-voice ISU Concert Choir will present English Renaissance composer
William Byrd's setting of "Ave verum corpus," Janika Vandervelda's choral piece, "Hilariter," based upon a text by Hildegard of Bingen. Two movements from Canadian composer Stephen Chatman's Due North will be performed. These pieces, "Mountains" and "Trees" were written to sonically depict the aural aspects of the natural aspects of the North American forests. The Concert Choir will then be joined by the Century Singers for the final piece of the program "Ride On, King Jesus" by Moses Hogan, also featuring Lauk.
Tickets are $8 for adults, $6 for ISU faculty and staff, $4 for pre-college students and free for ISU students.