ISU Career Path Intern of the Month is Zack Smith
May 7, 2018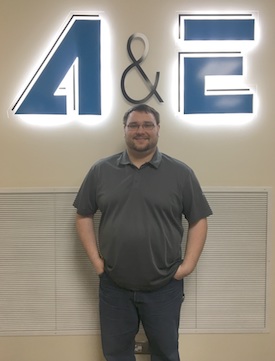 POCATELLO – Idaho State University's Career Path Intern of the Month is Zack Smith, a senior who is pursuing a bachelor's degree in civil engineering.
Smith has been working as an intern with A&E Engineering, a local engineering firm in Pocatello, for the past year. During his internship, Smith has been able to work with a senior drafter on multiple industrial projects.
"It's been great to get experience that matches the things I have been studying," Smith said. "I am really looking forward to continuing my work with A&E after graduation."
"We are very fortunate to have Zack as part of our team. He is a very hard worker and is never afraid to ask questions," said Krystal Chanda, professional engineer and principal at A&E. "In a short period of time, Zack has become the in-house expert at not only creating the models, but also importing the models into a program to perform finite element analysis. Our motto at A&E is 'exceed expectations,' and Zack helps us continue to do that."
In his spare time, Smith enjoys the Idaho outdoors. He is an avid hunter and fisherman, and hopes to partake in plenty of camping this summer with his family.
For more information, contact Emily Jahsman at 208-282-3548.