Idaho State University to host candlelight vigil Feb. 10 to honor Jon Huntsman, Sr.
February 7, 2018

POCATELLO ‑Idaho State University will host a candlelight vigil Saturday, Feb. 10 to honor the late Jon Huntsman, Sr.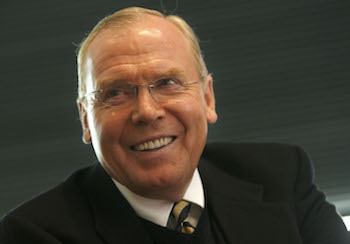 Huntsman, whose experience being hospitalized with cancer himself, was inspired to create the Huntsman Cancer Institute in hopes of providing an improved experience for patients and their families. He dedicated his life and resources to finding a cure for this monstrous disease.
Jon and his wife, Karen, have provided countless opportunities to students at ISU in their extraordinarily generous support of student scholarships. The impact the Huntsman Scholarship has made has deeply touched our students.
In an appreciation letter to the Huntsmans, one woman said, "I see this as a gateway opening to my future. I hope to do great things as a woman, to give aid to those in need, such as you have done for me. It amazes me to see how much good is in this world, where some other person is willing to pay for another's doorway into a better life. I promise you, I will do my best to become like you."
Huntsman, 80, passed away Feb. 2. The Utah billionaire and Blackfoot native has donated or pledged more than $580 million to cancer research through the Huntsman Cancer Institute, and donated more than $1.8 billion to charities throughout his lifetime, including many substantial gifts to Idaho State University student scholarships. In 2002, ISU honored Huntsman with an honorary doctorate in Science and Humane Letters. Huntsman spoke at ISU's commencement and shared many personal experiences along with his love for southeast Idaho.
"In a world of challenge and sometimes great despair, Jon Huntsman has always been a beacon of light. His goodness and perseverance has provided hope to millions around the world. There is no greater gift that one can give than the gift of hope," said ISU Vice President for Advancement Kent Tingey. "Our world is a better place because of him and his wife, Karen. Jon will be profoundly missed and, undoubtedly, his family will carry on his great legacy of providing hope. Idaho State University is deeply grateful for the kindness of Jon and Karen."
All are invited to attend the vigil beginning at 6:30 p.m., just prior to the Idaho State University men's basketball game, on the north side of Holt Arena. Parking is free.
---
Categories: