Idaho State University summer undergraduate researchers head to Idaho INBRE Research Conference in Moscow July 30-Aug. 1
July 30, 2018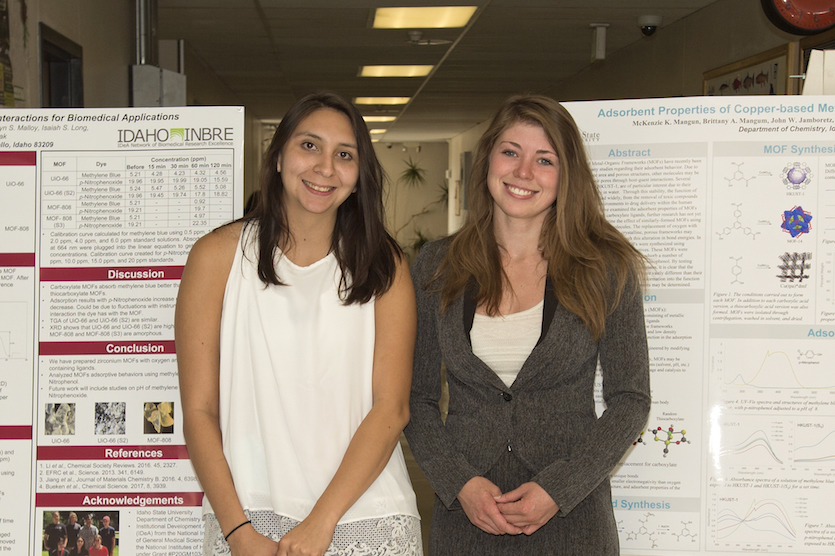 POCATELLO – Fourteen undergraduate students who paired with mentors to complete 10 weeks of intensive work as full-time biomedical researchers at Idaho State University as part of the Idea Network of Biomedical Research Excellence (INBRE) Summer Fellowship program are heading to Moscow to present their findings.
The Idaho 2018 INBRE Summer Research Conference is being held July 30-Aug. 1.
The ISU INBRE students presented the results of their research during a poster session July 27, to get ready to present their findings amongst their peers at other Idaho institutions that have participated in INBRE program this summer.
Thirteen of the 14 undergraduates in INBRE at ISU this summer were ISU students from throughout the state and one was from Brigham Young University-Idaho.
The primary goal of the Idaho INBRE Program is to provide biomedical research opportunities for Idaho undergraduate students. The program also helps promote health research careers.
"We had a great group of outstanding students working in diverse labs from microbiology and neuroscience to chemistry and pharmacy, the whole gamut of the life sciences," said Mark Austin, ISU INBRE program director and professor of biological sciences. "I think they got some great experience on how to conduct experimental research and this is the final product of all their hard work over 10 weeks."
Camdon Kay, an ISU sophomore from Kuna, worked in Austin's neuroscience laboratory this summer and said the experience was valuable. He was helping to test a "novel antidepressant drug" on mice to look for a proliferation of the mTOR protein that is found in mammals that has been linked to having antidepressant effects with another drug, Ketamine. Ketamine, however, has a lot of negative side effects so the researchers are looking at the new drug to see if it might possible be a healthier, better alternative.
"It was an incredible opportunity," Kay said. "I was extremely fortunate to be in there and since it is a neuroscience laboratory, when I take neuroscience courses I will have experience in the discipline and experience in this field of science."
Alexander Lopez, a senior from Weiser in the ISU Bachelor of Science/Master of Science program, worked in biological science Professor Jack Rose's laboratory studying the hormone prolactin and the effect it has on glycogen metabolism in uterine tissue because researchers think the hormone may be important for proper implantation or fertility to occur, Lopez said.
"I spent a semester working for Dr. Rose before this summer and I'd probably been in here without INBRE, but INBRE has given me so much more opportunity and funding to get some work done, as well as take me to this conference," Lopez said.
Brittany Mangum, a biological sciences senior from Hazelton, and McKenzie Mangun, a senior chemistry major from Caldwell, both worked in the Department of Chemistry Professor Josh Pak's laboratory studying metal organic frameworks.
"It was a lot different than I expected," Magnum said. "I am a biology major and I was working in a chemistry lab so it gave me a totally new perspective and I learned a lot of basic theory and technique."
For Mangun, the experience of working in the lab wasn't new, but the end result was.
"I have been working in the lab for the last year and half, so this summer was a continuation and culmination of what I've done before," Mangun said. "INBRE gives it a different feel. Metal organic frameworks have a lot of different application, so right now we are really looking at absorbent properties on how they can be used for drug delivery or waste management and all sorts of biomedical applications."
The participating students receive a $6,000 stipend for the summer and are required to present their research findings at the annual INBRE Research Conference. The INBRE Program is funded by the National Institutes of Health and the National Institute of General Medical Sciences Institutional Development Award (Grant # P20GM103408).
---
Categories: