Idaho State University student veteran Christopher Albano makes mark in ISU Robotics Program
March 7, 2018
Tori Parks, Marketing Career Path Intern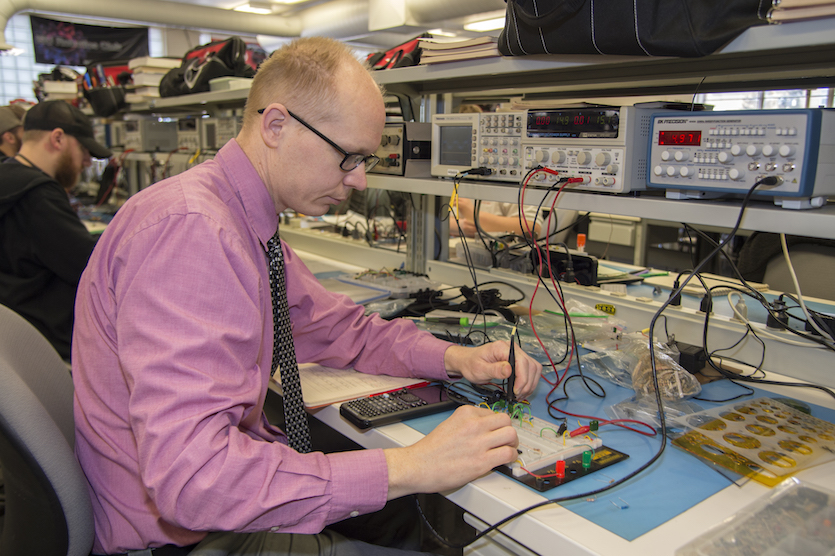 POCATELLO – Not many people can say that they are a veteran, a robotics student, an active club member, a husband, a father and a mentor to elementary students. Idaho State University Student Christopher Albano is an exception.
Albano was an Explosive Ordinance Disposal tech in the army, is currently halfway through the robotics program at ISU, is treasurer of the ISU Electronics Club, has a wife and a child and mentors an elementary-age robotics team.
Not only does Albano excel in school, he also excels in his extracurricular activities pertaining to both school and his military background. Albano served in an active duty status in the Army, and is still on inactive reserve status. He continues to play an active role in the EOD community and is a member of the Armed Forces Club at ISU.
Albano came to ISU after serving for six years in the Army as an EOD Tech. He came to ISU with the hopes of gaining the skill set he needs to "build and prototype a specific piece of diagnostic equipment which should make [his] EOD brethren safer in dealing with Improvised Explosive Devices."
Timothy Leishman, an instructor for the College of Technology, observes Albano in class every day.
"Chris is outstanding both in class and out of class," Leishman said. "Chris is a great student who always comes to school with a positive attitude."
The Robotics and Communications Systems Engineering Technology program in the College of Technology is a demanding three-year program, only accepting 16 students a semester. Students are required to work in and out of the classroom, creating unique and detail-oriented projects. Students have the opportunity to conduct research, make repairs and work with other professionals in software development, national defense, telecommunications and other fields.
"I tend to make school take about 80 hours a week," Albano said. "I am a bit obsessive, and more importantly, I have to be good at this to make the diagnostic tool I'm here to learn how to make."
Albano currently mentors a robotics club at his daughter's elementary school. When students started expressing an interest in robotics, Albano decided to lend his abilities, even though his daughter was too young to participate in the club herself.
"STEM learning opportunities are extremely important to me," Albano said. "Someday I hope that my daughter has this sort of opportunity, and I can't plan on being able to always be the one to do such things for her, so I decided I should probably be making an effort to encourage this type of culture while I can."
Albano said that each week he spends an hour with the group trying to impart basic problem solving and mechanical skills. He also tries to give students an early understanding that math is fun and useful in the real world. They are currently designing a gumball machine.
Albano knows that he couldn't be the active student and club member he is without the support of his family, friends and professors at ISU. Albano also sees the value that his peers and the students he mentors have to offer him.
"I don't think any of us are likely to succeed without the support of others," Albano said. "I don't think that there is anybody who doesn't have something valuable to offer if you will just take the time to get to know them."
Albano currently has three more semesters until he graduates. During this time, he hopes to gain the necessary knowledge he needs in order to design his goal product. He also hopes to continue taking an active part in clubs and the community.
---
Categories: