Idaho State University student pharmacists receive multiple national awards
April 18, 2018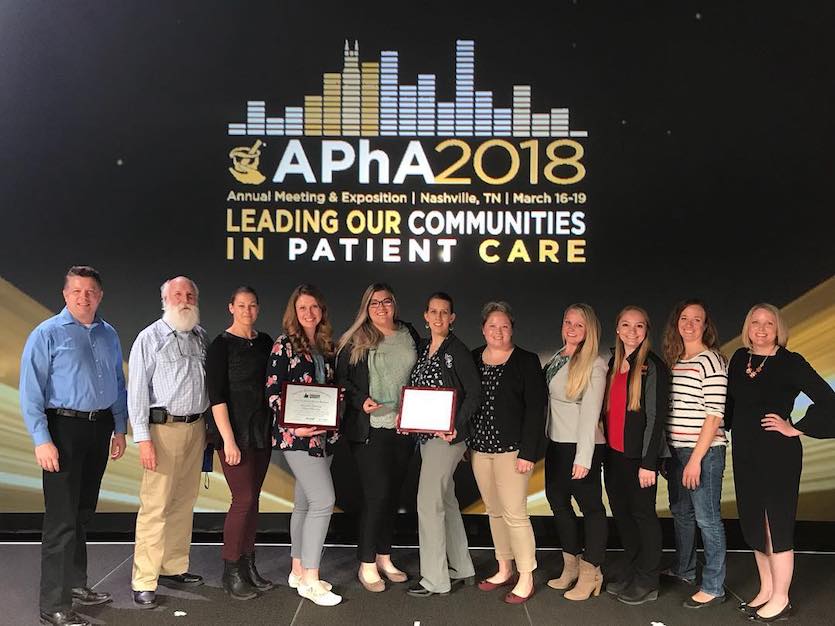 POCATELLO - The Idaho State University College of Pharmacy student organization has received three of the American Pharmacists Association's (APhA) highest annual awards.
The Idaho State University chapter consists of student pharmacists from ISU-Pocatello, ISU-Meridian, and Anchorage, Alaska and is part of APhA's Academy of Student Pharmacists (APhA-ASP). Several of the ISU students and their chapter advisors traveled to Nashville, Tennessee, in March to participate in the annual APhA-ASP meeting and exposition. There, they were awarded first place nationally for their efforts in the Operation Immunization program, national second runner-up for the Over the Counter Medication Safety program, and national third runner-up for the Generation Rx program.
Between 2016-2017, ISU student pharmacists provided heart disease screening and education to more than 1,300 people and provided diabetes screening and education to more than 1,500 people. Operation Immunization is another outreach program, designed to increase public knowledge of immunizations while providing adult immunizations in an effort to increase the number of adults receiving them.
Nate Reed, of Pocatello, and Bekah Dunkley, of Meridian, are third-year pharmacy students and the Idaho State Pharmacy Association Representatives for the APhA-ASP.
"For Operation Immunization, the APhA-ASP takes into account how many immunizations were performed in the community, along with student presentations at high schools and other places in their communities," Reed said. "The APhA-ASP wants to know how many people are affected by the school's outreach."
With more than 3,500 immunizations provided to people in the Pocatello/Chubbuck area between 2016 and 2017, the ISU College of Pharmacy student chapter is No. 1 in the nation. Reed says they are administering mostly flu shots, but they do other types of immunizations as well, and most of the medication costs are sponsored by other pharmacies.
ISU student pharmacists also received the national second runner-up award in the 2016-17 Over the Counter Medication Safety program. Their efforts here are also community focused, by providing education and awareness surrounding the dangers of over the counter medication misuse.
A similar program, Generation Rx, is two-fold. This program focuses partly on safety for elderly prescription takers. The second piece is working to help keep children from accidentally ingesting medication they may find in their home or someone else's home. Here, the students received the national third runner-up award for their efforts in talking to children and playing games with them in elementary schools, along with visiting high schools and colleges to educate people of all ages that medications are important to take appropriately. Another message the students work hard to pass along to everyone they visit is the key role a pharmacist plays in medication safety.
Anyone who has ever picked up a prescription from a pharmacy has probably had the opportunity to speak to the pharmacist about how to take the medication, its side effects and ask any questions they may have about the drug. This patient counseling is something that pharmacists, and ISU's College of Pharmacy students, take very seriously. Each year, students compete in a competition to help train students to be successful in providing patient counseling.
"Our main job is to put together the Patient Counseling Competition," Reed said. "We had 11 competitors, and three judges, two faculty and one non-faculty. We came up with six different scenarios for the students to counsel the mock-patients, each one had a different disease. They came into the pharmacy and were handed an antibiotic or an inhaler and the students played the role of a pharmacist."
Reed says that to be successful, the competitors must go over the side effects of the drug, how to take it, what to do if the patient misses a dose, and complications to watch for. The rules of the competition say that the patient counseling can last as long as five minutes, but most students were finished in about two to three minutes. When the day was done, the winner of the competition was officially qualified to go to the national competition, held at the same APhA meeting in Nashville.
Second-year student Chelsea Bagby made the trip and competed in another patient counseling competition on the national level. Bagby made it into the final round, with only nine other student pharmacists from across the United States.
"We've been doing the patient counseling competition for a long time," Reed said. "Here at ISU we try to stay as involved as we can with APhA-ASP and with other APhA-ASP chapters. It's prepared our students to become more rounded pharmacists when they get out into practice. They've had that experience in the community, getting the most experience that they can so when they step into that pharmacist role, they are more prepared. We like to take advantage of those opportunities whenever we can, as it also gives them confidence."
These programs are just a few of the community outreach programs conducted by the vast majority of pharmacy schools across the United States. The Operation Diabetes and Operation Heart programs, for example, focus on providing education targeted to people suffering from, or who may be at risk for developing, diabetes and cardiovascular disease. The programs also aim to better inform citizens, and the students themselves, about the role pharmacists play in prevention and managing the effects of these diseases.
---
Categories: