Idaho State University renames Meridian Health Science Center in honor of Sam and Aline Skaggs
January 23, 2018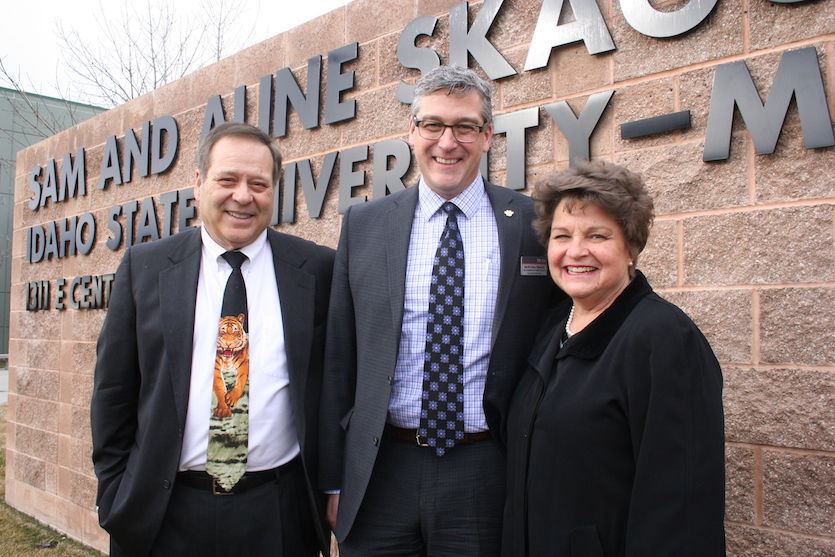 MERIDIAN – Idaho State University has renamed its Meridian health science complex in honor of Sam and Aline Skaggs whose decade of financial support has helped grow the Meridian campus and provide advanced health professions education for hundreds of students and working professionals in the Treasure Valley.
The Idaho State University-Meridian Health Science Center, 1311 E. Central Drive, is now the Sam and Aline Skaggs Health Science Center at Idaho State University-Meridian.
"We are honored to have the names of Sam and Aline Skaggs on our building. Because of their generous financial support, we are able to provide the state's highest level of health professions education while improving access to quality health care for underserved Idahoans," said ISU President Arthur C. Vailas during a naming celebration Jan. 23.
Since 2007, the late Sam and Aline Skaggs – through their charitable trust The ALSAM Foundation – have donated more than $10 million to ISU. An initial gift of $5.25 million was used to purchase property for the health science center and provide pharmacy scholarships for ISU students. A recent gift of $3.85 million will enable ISU to add a second floor to the complex for additional classroom and research space this year.
Vailas thanked The ALSAM Foundation, state lawmakers, ISU administrators and the State Board of Education for sharing a vision that, within 11 years, transformed what was once a shuttered electronics plant owned by the West Ada School District into a state-of-the-art health science education complex graduating several hundred students each year.
"Educating health care professionals was always a priority for my father," said Sam Skaggs' daughter Susie Balukoff, a member of The ALSAM Foundation's Grants Committee. "I know he would be pleased to see the growth and progress Idaho State University is making in Meridian."
Idaho Lt. Gov. Brad Little, citing Idaho labor department statistics, said Idaho currently has 20,000 jobs that need to be filled – with a significant number of them in the health professions. "This facility is absolutely the key to filling those jobs," Little said.
Other ALSAM gifts have funded anatomy, physiology, bioskills and pharmacy research labs on the Meridian campus – resources that strengthened Idaho's bid for the state's first medical school. The privately owned Idaho College of Osteopathic Medicine will open next fall next to the Sam and Aline Skaggs Health Science Center at ISU-Meridian.
About The ALSAM Foundation
Sam Skaggs, the retired chairman of American Stores Company, Inc., and wife Aline established The ALSAM Foundation in 1984. Based in Salt Lake City, the organization has donated millions of dollars in support of education, medical research, human services, Catholic agencies and other charities.
About ISU-Meridian
ISU-Meridian offers more than 30 undergraduate, graduate and online programs, including pharmacy, physician assistant studies, nursing, audiology, sign-language interpreting, paramedic and medical laboratory sciences in addition to research laboratories, a full-service dental clinic, counseling and speech and language clinics. The campus serves more than 1,000 university and high school students and working professionals.
---
Categories: