Idaho State University pharmacists to start prescribing hormonal contraception at Bengal Pharmacy
May 25, 2018
Kori Wittrock, Resident, Bengal Pharmacy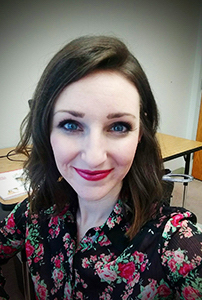 POCATELLO - Bengal Pharmacy, on the campus of Idaho State University in Pocatello, is now offering a new service, the Pharmacist-Prescribed Hormonal Contraception Program.
Pharmacists will be able to write prescriptions for up to 15-months for birth control, including the daily pill, progestin-only pills, vaginal ring, transdermal patch, contraceptive injection and emergency contraception. This service will increase access to birth control for women in Pocatello.
Programs like this have been introduced in multiple states throughout the United States, including many states in this region – California, Colorado, Nevada, New Mexico, Oregon, Utah and Washington.
Bengal Pharmacy's community pharmacy resident, Kori Wittrock, is spearheading the program.
"Lack of access to birth control has been a barrier in this country for years. I am excited to be able to help decrease those barriers and get women the healthcare they need," Wittrock said.
She is leading the initiative under the direction of Shanna O'Connor, director of clinical services at Bengal Pharmacy. Wittrock designed this program and rolled it out over the past few months using mock patients.
"All of our pharmacists have a Doctor of Pharmacy degree, so we have a great understanding of the ins-and-outs of birth control," Wittrock said. "Because pharmacists are newer to the role of prescribing, we wanted to make sure to work out any of the kinks of providing a new service before we started involving actual patients. Now all of our pharmacists have practiced providing this service and are excited to start prescribing."
A small copay is associated with the visit, similar to what a patient would pay for an appointment at the doctor's office. A birth control consultation will cost $20 and an emergency contraception consultation will cost $10. The copay includes the first visit and a follow-up phone call. The pharmacists will work with the providers at the ISU Health Center and with patients' primary care providers to ensure communication across the health care team.
According to Wittrock, the benefits of receiving hormonal contraception at the pharmacy are numerous.
"We appreciate how busy our patients are," she said. "The goal of this program is to get women the health care they need – that means decreasing the time spent trying to get a prescription and getting people back to their busy lives. Patients don't have to make an appointment to see their pharmacist, they can walk in and talk to the pharmacist about birth control with virtually no wait time. The whole visit usually takes less than 20 minutes and the prescription can be processed right away because we're already at the pharmacy."
O'Connor said Bengal Pharmacy has a great understanding of the costs of prescriptions and can work with women and their individual financial situations to make sure they're receiving the birth control regimen that makes the most sense for them.
"The other great part is that we have follow-up calls built into the program," O'Conner said. "If we prescribe a new birth control or change any part of a prescription at the visit, we give every patient a call within three to six months to make sure everything is still working well – and if it's not, we can easily change it."
Bengal Pharmacy is located on the top level of the ISU Health Center at 990 S. 8th Avenue in Pocatello, and is a full-service pharmacy, open to the public.
"We accept all major insurances and have comparable non-insurance pricing for our prescriptions and over-the-counter products," Wittrock said.
The pharmacy is open year-round Monday through Friday from 9 a.m. to 6 p.m.
---
Categories: