Idaho State University Health Fair set March 15-16, blood draws start March 1
February 8, 2018
By Tori Parks, Marketing Career Path Intern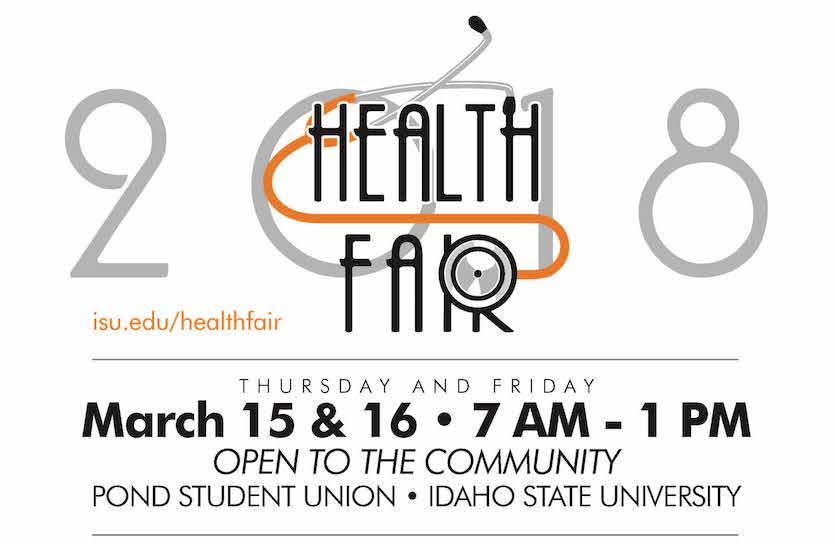 POCATELLO – The 2018 Idaho State University Health Fair March 15 and 16 will offer numerous free and reduced-cost health screening services, health information booths and family-friendly activities for the entire community.
The event will take place from 7 a.m. to 1 p.m. both days at the ISU Pond Student Union.
The general Health Fair with learning centers, educational booths and displays will be in the Ballroom. Free health screening services, including blood pressure screenings, point-of-service diabetes screening tests (blood glucose [sugar] and A1c), foot exams, dental screenings, hearing screenings and medication reviews will be in the Wood River Room.
Blood screenings at the ISU Health Fair are always offered at reduced rates. For $45, attendees can have all of the following tests performed:
HDL, LDL, and VDL cholesterol test
Triglycerides test
Blood glucose (sugar) test
· Liver, kidney, muscle, and heart function tests
· Complete blood count
· Thyroid stimulating hormone test
Other blood screening tests are available, and members of the community can either have their blood drawn at the Health Fair or make an appointment with the Bengal Lab for blood draws. Pre-fair blood draws are available March 1-14. Results for blood work drawn by March 12 will be available for pick-up at the Health Fair and can be reviewed with an ISU health professional. Post-fair blood draws will be available March 26-30. For best results, participants should fast 12 hours before having their blood drawn.
The Bengal Lab is located in Room 161 in the College of Pharmacy, which is housed inside Leonard Hall near the south end of the ISU Hutchinson Quadrangle. Parking is available in the ISU general parking lot. Signs will say "Bengal Lab Parking Only" during March. The Bengal Lab is open from 8:30 a.m. to 3:00 p.m. Monday through Friday or by appointment by calling (208) 251-6260.
For more information on the Bengal Lab services, call (208) 251-6260. The reduced-price Health Fair screenings are available at the times listed above, but the Bengal Lab is open to anyone in the community year-round.
In addition to blood screenings, the 2018 Health Fair will feature more than 70 learning centers, health booths, and displays with interactive games and prizes for all ages. Event parking is free in the Pond Student Union parking lot during the time of the Health Fair.
For more information, contact Carol Kirkpatrick, ISU Wellness Center director, at 208-282-3559 or fellcaro@isu.edu.
---
Categories: