Idaho State University dental hygiene faculty and alumni receive multiple honors at American Dental Hygienists' Association annual conference
July 12, 2018

CHICAGO, ILLINOIS - The work of faculty and alumni from the Department of Dental Hygiene at Idaho State University (ISU) did not go unnoticed at the association's annual conference in June. There the ADHA honored an ISU faculty member with a prestigious Presidential Citation Award, and installed a new slate of officers for the upcoming year, with an ISU alumna among them.
An 2011 ISU graduate, Lisa Moravec, was elected and installed as the association's vice president. Moravec recently completed two terms (4 years total) serving as a trustee for the ADHA, and has served in many leadership positions at the state and component levels as well. Moravec says, "It is truly an honor to have been elected by the 2018 ADHA House of Delegates to serve this year as ADHA vice president. I am grateful for the support and encouragement I have received from my dental hygiene colleagues. The leadership courses we take through ISU inspire us all to strive to be the best versions of ourselves. I am committed to learning and growing each day. I look forward to a great year of leadership and service to the dental hygiene profession!"
JoAnn Gurenlian, is a professor and graduate program director for ISU's Department of Dental Hygiene. She is responsible for recruiting and mentoring graduate level students, such as Moravec, through the master of science program for dental hygiene. Though not an ISU alumna, Gurenlian has had experience in leadership positions for the ADHA herself.She says "As a past president of the ADHA, I am proud of Lisa's commitment to the dental hygiene profession. She has been serving as the District VIII Trustee representing five states. She has been recognized as a leader, and we are hopeful that she could eventually be a future president of the association." If elected as president in the future, Moravec would be the first graduate of ISU to hold that position.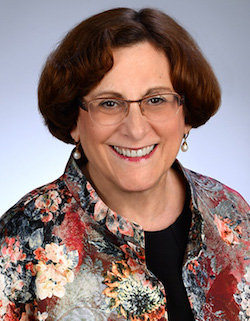 Gurenlian was also honored at the conference, receiving the distinguished Presidential Citation Award from ADHA President Tammy Filipiak. The Presidential Citation Award is not offered by the ADHA every year, but given only at the current president's discretion. Recognizing Gurenlian at the conference, Filipiak said, "This award is presented in recognition of your leadership and vision to advance dental hygiene globally and for your work in promoting the development of the doctoral program in dental hygiene." Gurenlian has served as Past President of the ADHA and the International Federation of Dental Hygienists, published over 275 manuscripts and conducted over 550 presentations internationally, nationally and regionally to her colleagues in dental hygiene and dentistry. Gurenlian says, "Throughout my professional career, my passion has been and is working with individuals undergoing cancer therapy and oral health professionals helping to improve early detection, prevention and treatment practices." At ISU Gurenlian has guided 39 thesis students in their research endeavors and three doctoral students, which she says has been "a true joy."
The Master of Science degree in Dental Hygiene at Idaho State University ISU is designed to accommodate non-traditional graduate students around the world. Through the convenience of web-based instruction, the program allows students to earn a graduate degree while maintaining their current residence, career, and lifestyle. Graduates of the program are prepared for progressive leadership roles in dental hygiene including education, research, and rural and community health. More information about the program can be found at isu.edu/dentalhy/master-of-science.
Photo info: Lisa Moravec, top; JoAnn Gurenlian, bottom.
---
Categories: