Idaho State University College of Science and Engineering names Scott Snyder as new dean
April 3, 2018

POCATELLO – Idaho State University has named Scott Snyder as the new dean for the College of Science and Engineering. Snyder, who is currently the associate vice chancellor for research and creative activity for the University of Nebraska Omaha, will begin his duties on June 29.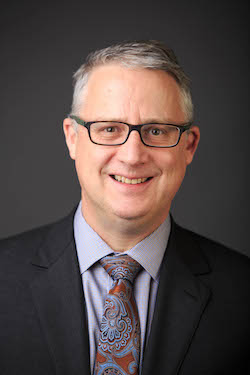 "I couldn't be more excited," Snyder said. "The College of Science and Engineering is already doing great things and has unlimited potential. We need to set a course, and we will work together to set a course, to make these great things even better."
Snyder also serves as the interim executive director of the University of Nebraska's Peter Kiewit Institute and is a professor in the University's Department of Biology. An accomplished researcher, Snyder's vitae lists 35 publications. He has been an assistant, associate or full professor since 1998 and was a National Science Foundation Alfred P. Sloan Postdoctoral Research Fellow in Molecular Evolution at the University of New Mexico from 1996 to 1998.
His administrative background is varied and includes former service as the president of both the Nebraska Applied Research Institute and the University of Nebraska's Peter Kiewit Institute Technology Development Corporation. He was also a program director at the National Science Foundation's Division of Environmental Biology. Snyder also has diverse international and philanthropic experience.
"Dr. Snyder has a rich academic, administrative and service work history and a strong background in research," said Laura Woodworth-Ney, ISU executive vice president and provost for academic affairs. "He is an excellent fit for Idaho State University and the College of Science and Engineering and will be an exceptional leader. We look forward to working with him."
Snyder earned a Doctor of Philosophy degree in parasitology and a Bachelor of Science degree in biological sciences from the University of Nebraska-Lincoln, and earned a Master of Science degree in parasitology from Wake Forest University, Winston-Salem, North Carolina.
Snyder is familiar with Idaho and looks forward to working here. He has hiked in various places in Idaho, including three long backpack trips in different wild areas.
"I absolutely fell in love with the place, which is why I keep coming back," Snyder said. "So, when I saw that this position was available and I found out about the strengths of Idaho State University and the College of Science and Engineering, and the great beauty and outdoor opportunities all around it, it was an unbeatable combination."
---
Categories: