Idaho State University Audiology Clinic recognized as one of the best in Southeast Idaho
July 26, 2018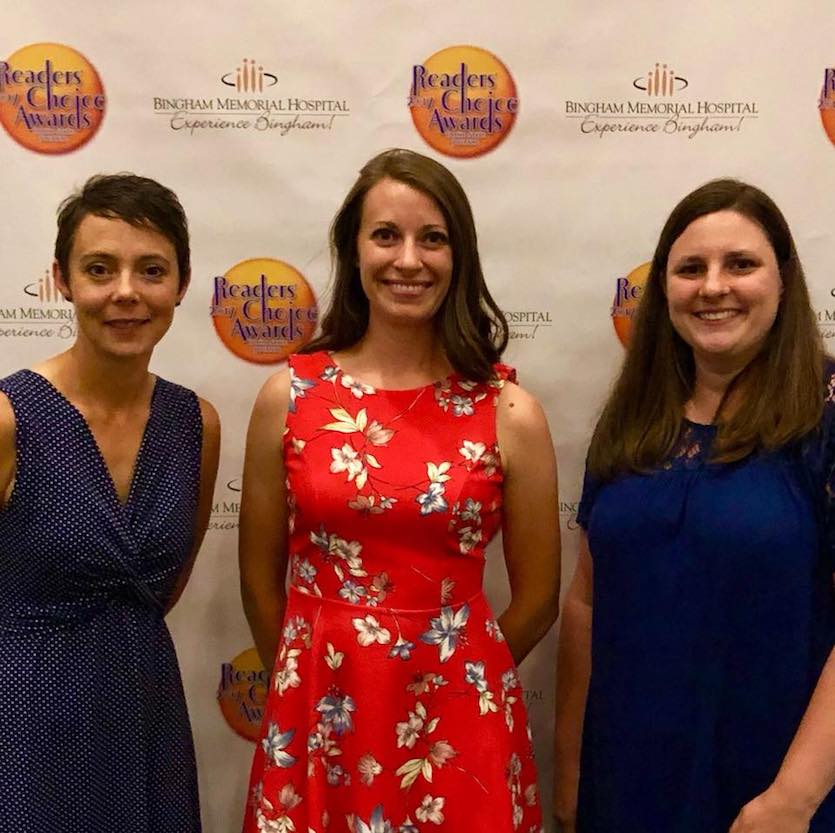 POCATELLO - Idaho State Journal readers have voted in the annual Reader's Choice Awards, and the Idaho State University Audiology Clinic has been awarded second place in the category for Best Hearing Aid Centers in the region. Other award winners in the category include: Miracle Ear, Hearing Zone, Centrum Audiology, Costco and Belltone.
This is the first time the ISU Audiology Clinic has been nominated for a Reader's Choice award, and administrators there are hoping to make it an annual tradition. "Now that we know that our patients love our clinic so much that they are willing to vote for us, compared to some of the nationally owned hearing aid centers, we're going to try even harder for first place next year," said Nancy Cheadle, assistant clinical professor at ISU.
Kathleen Kangas, dean for the College of Rehabilitation and Communication Sciences, said, "Our clinics are a great example of university-community partnership. When community members choose the ISU Audiology Clinics, they not only get top quality service, they are also supporting our students and helping to train the workforce of the future. I am delighted that the ISU Audiology Clinic is being recognized in this way."
One of the clinic's newest patients wasn't surprised to hear the news about the award.
"I love, love, love my hearing aids," said Gerald Christensen, who has been wearing hearing aids for about 15 years and was recently fitted for a new pair from the staff at the ISU Audiology Clinic.
Christensen's daughter, Heather Christensen, who has been working as an administrative assistant at the clinic for a little over a year, scheduled the appointment for her father after visiting him on a trip abroad.
"It was as good of an experience as I could have ever asked for," Gerald Christensen says, "they told me where I stood with my old hearing aids, where my hearing was now, and what was available to me now. They are very good, very professional, no pressure."
Christensen says the technology involved in hearing aid manufacturing has changed substantially since he first started wearing them. The devices from ISU's Audiology Clinic have technology that allows them to pair wirelessly with his cell phone, making life more enjoyable to him, and those around him.
"My phone rings and I'm the only one who knows it's ringing because it rings in my head, instead of outside and through my ears," he said. "I was able to purchase a thing to pair it with my TV and I can have it on mute but I can hear the TV so my wife said it's a lot quieter in the house now."
The device that connects the hearing aids to a television set is called a TV streamer.
The ISU Audiology Clinic has office locations in both Pocatello and Salmon. The Pocatello location also offers specialized audiology services for military veterans, serving more than 600 in the last year. Clinic personnel say overall, they provide the most comprehensive audiology service in Southeast Idaho.
"We love to help people find solutions to their hearing needs. It may not always be a hearing aid and that is what makes us unique; we look at each individual's hearing needs and work with the patient to come up with a solution. Our fulfillment as audiologists comes from helping people successfully hear and communicate in environments which are important to them," Cheadle said.
ISU Audiology clinics offer hearing evaluations for all ages, hearing aid selection and fittings, cochlear implants and other audiology services, serving a total of just over 1,600 people in the last year. The clinic is open to the public and accepts most major insurance.
More information, including hours for each clinic, is available at www.isu.edu/clinics/audiology.
---
Categories: