Idaho State University Athletes, Kasiska Division of Health Sciences SCORE℠ in Partnership with Dairy West
April 20, 2018
Lee Ann Hancock, DHS Marketing Director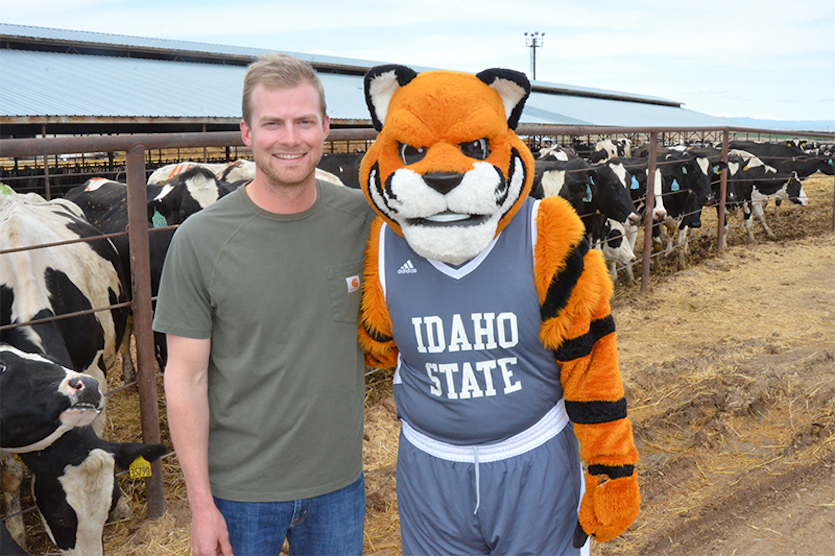 MERIDIAN - Whether you are a collegiate athlete or a dairy cow, there is no substitute for good nutrition. Both Natalie Christensen, registered dietitian and Michael Siegersma, dairy farmer, took a considerable amount of time to highlight the importance of a healthy, balanced diet, for both humans and Holsteins, during a recent trip to Eagle Ridge Dairy near Kuna. Even Idaho State University's mascot, Benny the Bengal, came along to spend some time down on the farm.
Through a partnership with Dairy West and ISU's Kasiska Division of Health Sciences, Christensen provides nutrition counseling, grocery store guidance, and cooking classes to ISU athletes as part of the SCORE℠ program. SCORE℠, or Smart Cooking on the Run Every Day, works to empower athletes to plan and cook healthful meals and snacks.
The program provides education to ISU athletes on the basics of a nutritious diet and resources for healthful meal planning, shopping, and food preparation. Christensen is a licensed and registered dietitian nutritionist who graduated from ISU in 2001 with a degree in dietetics. She says ISU coaches and athletes have a surprisingly varied view on what balanced nutrition really is.
"It is so interesting to see what level of nutrition our athletes are on when they come to see me," Christensen said. "After talking with some of them, they are surprised to learn they simply aren't eating enough to support their daily level of activity. And then there are others who are unfamiliar with some of the most common fruits and vegetables. It is so fun for me to be able to teach them how to cook these foods and use them to better their performance."
Michael Siegersma, Eagle Ridge Dairy's operations manager, is one of the youngest in a long line of dairy farmers who originally began perfecting their craft in Holland. The family eventually made their way from there to California, and then to Idaho in 1994. Michael, who began overseeing operations in 2004, says his highest priority for the approximately 2,000 head of dairy cows at Eagle Ridge Diary is "cow comfort." This consists of weekly veterinarian visits, calculated nutrition, and a consistent, methodical milking environment.
"The cows are fed at the same times every day. Each of our employees in the milking barn works with the same 10 cows every time they are brought in for milking, which happens three times a day," Siegersma said. "The employees don't shout or do anything that would startle the cows, they talk to them in quiet voices. The cows come in the same door each time and they know exactly what to do and exactly what the milking procedure includes. This helps ensure they are comfortable and their milk flows faster."
Whilte Siegersma talked, his dog Achilles, follows his every step.
Depending on their nutritional needs, the cows at Eagle Ridge Dairy are fed a variety of foods, which can include fermented corn silage, cottonseed, almond hulls, alfalfa hay, flaked corn, premixed canola meal, soybean meal and if needed, a mineral pack is sometimes mixed in.
"The cottonseed feed provides excellent nutrition and fat production, perfect for the dairy products that our milk is used to make," Siegersma said. "The 17,000 gallons of milk produced daily are sold and delivered via truck to a local cheese manufacturer, Sorrento Lactalis in Nampa."
Dairy West, a Boise based non-profit organization, works to promote and market Idaho's dairy farm families, and is a USDA qualified program. Before departing for the Eagle Ridge tour, Benny the Bengal and other key players from ISU athletics and the health sciences division met with Dairy West representatives to discuss the SCORE program and their continued partnership.
One of these was ISU alumna Chelsea Schoenfelder, who is a wellness manager and registered dietitian for Dairy West. She oversees nutrition education materials and curriculum provided to health professionals and educators throughout the state of Idaho. Crystal Wilson, also a registered dietitian and vice president of health and wellness for Dairy West, oversees nutrition education and programming.
"Idaho State's SCORE℠ program and Dairy West have a shared vision for providing nutrition education for student athletes," Wilson said. "We are excited to continue our strong partnership and create innovative ideas together."
---
Categories: