Alan Johnson is new Fulbright Program Advisor for Idaho State University
February 6, 2018
POCATELLO – English Professor Alan Johnson, who grew up in India and has served two Fulbright scholarships, is Idaho State University's new Fulbright Program Advisor.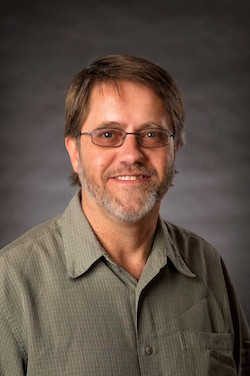 He takes over this position from ISU Spanish Professor Sharon Sieber, after her 10 years of dedicated service.
"I am very excited about this new position," Johnson said. "If you are interested in learning about other parts of the world you can teach or do research or be involved with communities. Artists and people in the performing arts can also do a project."
Johnson noted that Fulbright online applications for 2019 open April 9. For most faculty Fulbrights, the deadline is Aug. 1 although there are a few variations.
Undergraduates, who must be seniors, and graduate students applying for Fulbrights have to go through a mandatory campus review process. The ISU internal deadline for students is Sept. 14 and the deadline to Fulbright is Oct. 9.
"I would really like to encourage undergraduate students, graduate students and faculty, whether adjunct or tenure track, to apply for Fulbright," Johnson said. "Please go to the website or contact me if you're interested in going abroad. There are opportunities in many, many countries. ISU has had a number of Fulbrighters and they are resource people on campus, and College of Arts and Letters Dean Kandi Turley-Ames is very supportive."
This academic year, ISU has two student applicants who have been named as semi-finalists for Fulbright awards. Those students are Samra Culum, who is pursuing a doctoral degree and has applied for a Europe Anniversary Award with an education focus, and Caitlin Vitale-Sullivan, a graduating senior who has applied for an Open Study-Research/Arts award in Sweden for musical instrument training and world music. These students' proposals will go through one more round of scrutiny by Fulbright before it is determined if they will receive awards.
"Although this does not guarantee an award, it's a great achievement for our students given the great competition, especially for Europe," Johnson said.
Johnson, through the Fulbright program, went to India for six months in 2010 on what was mostly a teaching Fulbright. During the 2016-17 academic year he did a Fulbright research project, focusing on images of forests in modern Indian fiction.
"The Fulbrights were high points of my career," Johnson said. "That's why I am so enthusiastic about the Fulbright program. Any exchange program about international travel and study is great for undergraduates, grad students and faculty."
Johnson recently returned from a Fulbright training workshop in New Orleans that was for first-time Fulbright Program Advisors. About two-dozen Fulbright Program Advisors attended the training.
"It was good to see the support from the representatives there and in the Washington, D.C. office," Johnson said. "It was a well-run workshop and very helpful."
Johnson's contact information is 208-282-2198 or johnala2@isu.edu.
For more information about the Fulbright program, visit https://us.fulbrightonline.org/.