2018 Benny Award winners announced
April 27, 2018
Mariano Estrada, Marketing Academic Intern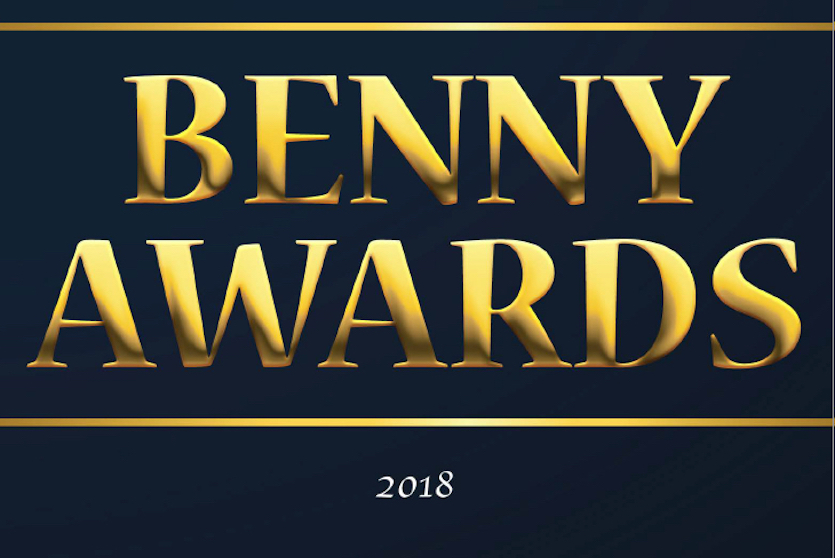 POCATELLO — Ten Idaho State University students, faculty members and organizations were honored with Benny Awards for their spirit, hard work and positive impact on the University by the Associated Students of Idaho State University and the Office of Student Affairs. The Benny Award winners were honored this week at a banquet held in the Pond Student Union. Below is the full list of winners.
Adolfo Andazola, Undergraduate Student of the Year — Andazola is currently a junior at ISU with a double major in medical lab science in Spanish for Health Professions. He hopes to become a family physician for the Latino community in Idaho and around the world.
Joel Adams, Graduate Student of the Year — Adams came to ISU to complete his bachelor's degree in outdoor education in 2015. He is currently working at the Outdoor Adventure Center while also pursuing a master's degree in physical education.
Ashley Kinzel, Growl, Bengal, Growl Spirit Award — Kinzel graduated from Meridian High School in 2015 and came to ISU to pursue a degree in nursing. She also holds positions in her sorority as electronics communication director and was elected as an ASISU senator for the 2018-19 school year.
Malliga Och, Faculty/Staff Member of the Year — Och is an assistant professor in the Department of Global Studies and Languages. She received her PhD, a Magister Artium in political science, communications and law. She received the 2018 Deborah "Misty" Gerner Award for Professional Development given by the Women's Caucus for International Studies, and is an active advocate for women's equality.
Erik Nakken, Exemplary Service Award — Nakken came to ISU from Cedar City, Utah, and has been here for five years as a member of the ISU men's basketball team. He is co-president of the Student-Athlete Advisory Committee, where he helped put together ISU's first sexual assault awareness week. He is also president of Omicron Delta Kappa, a national leadership and service honor society.
Tyler Johnson, Inspirational Bengal — Johnson is a pre-physician assistant senior with a major in Spanish for Health Professions, a member of the ISU Honors Program and a candidate for the National Hispanic Honors Society. He was born with a cleft lip and palate, scoliosis, Van der Woude syndrome, and pectus excavatum. Throughout his time at ISU, he has learned that he was capable of overcoming any challenge.
Sherri Dienstfrey-Swanson, Student Organization Advisor — Dienstfrey is the Director of the University Honor's Program where she teaches, advises, and helps the program advance with the assistance of wonderful colleagues and students. Before becoming the University Honors Program Director, she spent 25 years at ISU as a faculty member for the theatre department. She is retiring after 30-plus years in academia.
Mike Fica, Alumnus of the Year — This award was given posthumously to Fica, who died April 8, and the award was given to his family. Fica served as ASISU vice president and graduated in 1994. He worked with the United States Attorney's Office for more than 19 years, with special focus on illegal drugs and organized crime, working closely with federal agencies and the Idaho State Police. He helped bring the National High School Mock Trial Championship to Boise in 2016, and enjoyed working with high school students on mock trials for years.
American Chemical Society, Organization of the Year — The American Chemical Society, commonly referred to as the Chemistry Club, was chartered at Idaho State University in the fall of 1948. One of the goals of the club is to promote the public's perceptions and understanding of chemistry and the chemical sciences through public outreach programs and public awareness campaigns. The club provides demonstrations and hands on activities to many local middle and elementary schools.
The Handmaid's Tale, Outstanding Event of the Year — The Handmaid's Tale is a dystopian tale about the republic of Gilead, a nation that heavily oppresses women's rights. This event was organized by a collaboration between classes taught by Kellee J. Kirkpatrick, assistant professor of political science, and Amanda J. Zink, assistant professor of English. It attracted more than 250 people from all over the community and provided attendees with a fun way to engage in discussion of important social issues.
---
Categories: