Rituraj Yadav makes mark on world with help of Career Center
October 15, 2018
Tori Parks, Marketing Career Path Intern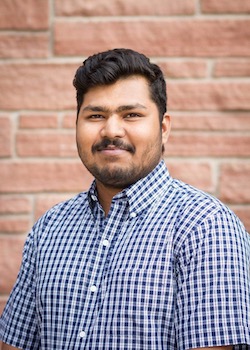 POCATELLO – Idaho State University's Career Center helps many students achieve their career aspirations, but for ISU junior Rituraj Yadav, the Career Center did more than that, helping him to land research internships and co-found two companies, NariHub and CigRed.
NariHub works to empower women and children in developing countries to give them financial independence. CigRed aims to combat the litter problem that is destroying the environment.
Yadav has a third company he is working on that will benefit people in underprivileged countries who don't have easy access to banks.
Even though Yadav has an internship and has co-founded two companies, he still goes back to the Career Center often. He rebuilds his resume constantly, takes part in mock interviews and gains the support and confidence he needs to be successful.
Yadav, who is originally from Nepal, came to ISU in August of 2016 with the hopes of gaining an education in environmental systems. When a friend suggested that he visit the Career Center to get help finding a job, he was amazed at the friendliness of the staff, specifically Brady Cook.
"Talking to Brady was the first time that I had hope that I could achieve my research dreams," Yadav said. "Brady instilled that hope in me."
Cook has helped Yadav from the beginning, and has been able to see him grow and progress since first coming to the Career Center.
"He is the type of individual who seeks out feedback and strives to implement information he is given to become the best he can be," Cook said. "Through my time working with him, I have seen him grow in confidence in his job search skills."
The Career Center helped Yadav go over his resume and get prepared for a job.
"I am never satisfied with my resume," Yadav said. "Brady helps me go over it again and again."
Yadav has had many different advisors throughout his time at ISU to help with different requirements, yet Cook stood out because Yadav could talk to him about his career.
"He is the guy I can come talk to about my career progress," Yadav said. "I talk to him because he can give me the advice I need to progress."
Through the help that the Career Center offered Yadav, he has had several research internships since he has been in Pocatello.
"These skills have helped Rituraj secure some really great internship experiences already," Cook said. "He is always looking for more ways to learn and grow.
Yadav is currently working as a GIS/Remote Sensing Technician with the NASA Rehabilitation Capability Convergence for Ecosystem Recover (RECOVER) project team at the ISU GIS Training and Research Center.
"The Career Center has become a very integral part of my life," Yadav said. "They sparked the hope in me and built the confidence in me. I never thought I would be able to achieve all the things I have today. It's definitely because of the Career Center that I have been able to achieve so much."
---
Categories: