Renewal of Idaho State University-University of Idaho rivalry energizes Bengals
October 10, 2018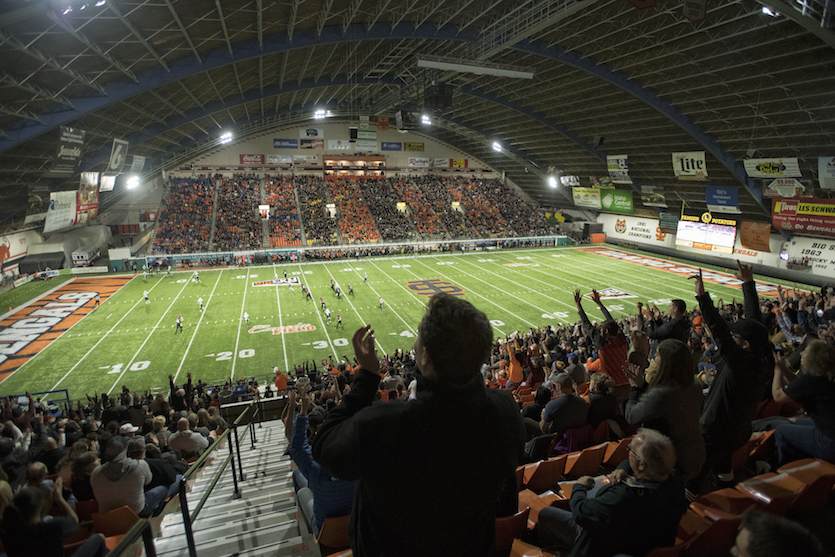 POCATELLO – From many different quarters, not just on the football field, Idaho State University's renewal of play against in-state rival the University of Idaho resulted in big dividends for the Bengal Nation and Idaho sports as a whole.
The two football teams hadn't squared off since 2008, the UI Vandals had not played in Pocatello since 1997 and ISU had not beaten the Vandals since 1995.
The Vandal football team wasn't given a very warm welcome, with the ISU Bengal football team handing them a 62-28 defeat, but both ISU and UI fully embraced the reunion.
"It was as good of an environment that I've ever seen at a collegiate football game," said Ryan Sargent, director of the ISU Office of Alumni Relations. "I thought it was a great weekend welcoming Idaho back to Pocatello for the first time in 21 years."
Rarely, if ever, had the real estate immediately surrounding Holt Arena on all sides experienced such full-blown festivities and tailgating, enjoyed by Bengal and Vandal fans alike. The new family-friendly Alumni and Fan Tailgate, with its tent located side-by-side to the President's Pregame Celebration tent on the ICCU Bengal Practice Field, attracted its largest number of participants, yet. Sargent estimated that about 2,500 people attended, based on the amount of free sarsaparilla given away.
At the same time, on the back side of Holt Arena, the Football Alumni Team (FAT) Tailgate was teaming with participants.
"First of all, I am really happy the University of Idaho is back in the Big Sky," said Don Neves, FAT chair, who was a quarterback for the Bengals during the 1964 and 1965 seasons. "It has rekindled the competitive spirt between the two schools. They are going to add to the Big Sky, because they have a lot of rivalries besides us, including Montana and Montana State. It's good for the conference."
And then the game started, attracting, according to the official number, 11,015 fans, the largest football crowd in Holt Arena since 2003 when a Montana game had an attendance of 11,434.
"The atmosphere inside the dome was great," said George Casper, longtime director of events. "It brought back a rival and it brought back Idaho fans to the dome. The atmosphere was as good as it has been in many, many years and it is really positive to see that."
ISU Interim Athletic Director Pauline Thiros was also pleased by the turnout.
"The rivalry, that game, was a huge opportunity for our department," Thiros said. "It gives us a chance to reach out to ISU fans and constituents from the U of I and get them in our arena. It was a great game and it is a great source of pride. Because we played that game against the U of I, we were the best team in Idaho that weekend. What a great stage for everyone in Idaho to have their eyes on ISU for a day."
The game has received plenty of coverage in newspaper and website sports coverage, but an interesting side note is that because of his eight-touchdown, 492-yard passing performance in the game, ISU quarterback Tanner Gueller was featured on ESPN, but, alas, ESPN didn't have an ISU helmet available. For a dramatization of how ISU responded to this incident, which gave ISU football national exposure, visit https://idahostateu.com/BengalESPN.
The good-natured ribbing of the University of Idaho by Idaho State didn't end when the game was over. Prior to the game, the ISU Alumni Association challenged the UI Alumni Association to the first-ever Food Fight, Bengals versus the Vandals, canned-food drive. Homefield advantage came into play here, too, with ISU winning this contest by collecting 12,000 cans of food for the hungry. The side bet on this contest, between Sargent and UI Alumni Executive Director Kathy Barnard, is that because ISU collected the most food, Barnard had to wear the colors orange and black the next week at her home institution.
In a similar contest, Pocatello Mayor Brian Blad and Moscow Mayor Bill Lambert wagered wearing the opposing team's colors on their tie if their hometown team lost. Following the game, it was Lambert who had to wear orange and black. For the City of Moscow's reaction, visit https://idahostateu.com/MoscowMayorOrangeBlack.
"It was incredible to have the University of Idaho back in Pocatello, and Saturday's Battle of the Domes football game was a lot of fun," Blad said. "Mayor Lambert and I had a great time with our good–natured bet and the schools' friendly, in-state rivalry. The pride of ISU and Pocatello was at stake, and I can't wait to see Mayor Lambert in his orange and black tie. Thanks Mayor Lambert, and I can't wait for next year's bet! GO BENGALS!"
Blad definitely isn't alone in his enthusiasm for this valuable, renewed rivalry.
---
Categories: