New director of development named for Idaho State University's Kasiska Division of Health Sciences
December 11, 2018

POCATELLO - Ryan Gerulf has joined the Idaho State University Kasiska Division of Health Sciences (KDHS) as director of development.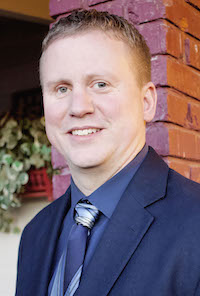 Previously, he held roles as development administrator for the Idaho State Historical Society and development coordinator for University of Idaho Athletics. Gerulf also worked for the alumni association at Boise State University, admissions at Northern Arizona University and new student services at the University of Idaho.
Gerulf obtained a bachelor's degree in agricultural industry management and communications, along with a minor in business, in 2005 from the University of Idaho. He went on to obtain a master's degree in administration with emphasis in public management from Northern Arizona University.
"I'm excited to assist the Kasiska Division of Health Sciences in providing essential health care services and research for our state," he said. "The faculty and staff have been extremely welcoming, and I look forward to getting to know the alumni and students from the KDHS and learning how their education has impacted their lives."
Rex Force, vice president for health sciences at ISU said, "We are thrilled to have Ryan on board at the KDHS. He brings a wealth of experience in fundraising, relationship development, and event management to this position."
Gerulf and his wife live in the Treasure Valley with their two children.
---
Categories: