Mary Johnson named Idaho Business Leader of the Year by Idaho State University Alpha Kappa Psi
November 12, 2018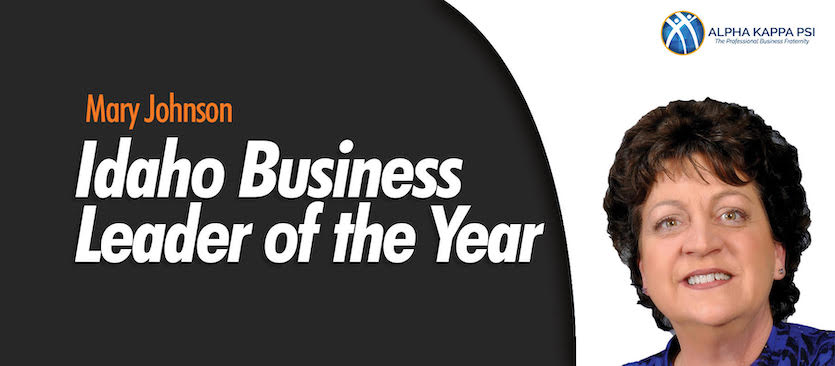 Owner of McDonald's Pocatello-Chubuck is the 60th honoree.
POCATELLO – Mary Johnson, owner of the McDonald's in Pocatello and Chubbuck, is the Idaho State University Alpha Kappa Psi Delta Upsilon Chapter 60th Idaho Business Leader of the Year.
Alpha Kappa Psi Delta Upsilon Chapter, the professional business fraternity at ISU, will recognize Johnson at a dinner in Pocatello on Thursday, March 14, 2019.
The award annually recognizes an Idaho business leader who has demonstrated outstanding business and professional ethics while contributing significant support to worthwhile community, civic and education activities. Awarded by ISU College of Business students since 1959, previous honorees have included a congressman, former governors, entrepreneurs and leaders of some of Idaho's largest companies. The recognition program is the longest-standing one of its kind in Idaho.
Johnson owns three McDonald's franchises in Pocatello and Chubbuck and oversees approximately 250 employees. Johnson began her career at 15 as a crew person working in the drive-thru of a McDonald's in Washington and advanced through the ranks within the restaurant.
Johnson's leadership, ability to adapt and interpersonal skills then helped her become a valued asset in the McDonald's Northwest Regional Office. She took every opportunity McDonald's presented to learn and grow. Johnson impressed McDonald's with her drive and loyalty to the company and in 2003, McDonald's chose her and husband Mike to become McDonald's owner/operators.
During the purchase of Pocatello/Chubbuck restaurants, the couple had 24 hours to decide if they would take the three stores. Mary and Mike rolled their sleeves up and got to work making the McDonald's in the area thrive. Johnson's leadership has made the McDonald's brand in the Pocatello community synonymous with service and quality. The local franchise reaches the McDonald's Gold Standard consistently and is a top performer in the region.
Johnson's involvement in the community has positively impacted the Pocatello community. While giving back to the community she also participates in the Pocatello Animal Shelter Board and Pocatello Chubbuck Chamber of Commerce Board, and is an honored Pocatello Chief. Johnson is a board member for the Ronald McDonald House Charities of Idaho. She dedicates time in every month to ensure families with children in need of hospital care in Boise have a home away from home. Whenever she visits the Ronald McDonald House in Boise she always comes prepared with a filled list of supplies needed at the house.
She makes sure that her employees put their school work first. Johnson has brought McTeacher's Night to Pocatello and has donated more than $85,000. She is a key sponsor of the School District 25 CAKE Award, and also provides incentives for her high school and college-aged employees to have school as a priority. Johnson's dedication in each aspect of her life motivates others to reach their highest potential and always strive to become the best version of themselves.
Individual tickets to the March 14 banquet, as well as event sponsorships, are available. For more information or to purchase tickets, visithttp://idahostate.akpsi.org/ibloybanquet/.
---
Categories: