ISU's Jenifer Reader elected President Elect of the Phi Upsilon Omicron National Honor Society
August 28, 2018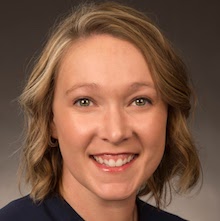 POCATELLO ­– One of Idaho State University's newest faculty members in dietetics, Jenifer Reader, has been elected as President Elect of the Phi Upsilon Omicron (Phi U) National Honor Society.
Phi U is an honor society for family and consumer science majors, of which dietetics is included. A collegiate chapter has been operating at ISU for several decades.
Reader is a graduate of ISU, completing both the Bachelor of Science degree in dietetics and the dietetic internship. She also earned her Master of Head Education degree and is now in the Doctor of Education program in the College of Education. She has served as an adjunct for dietetics for several years and became full-time faculty in August.
"Phi U has had a chapter on the ISU campus since the early '70s," said Laura McKnight, dean for the College of Health Professions. "Jenifer was chapter president as a student at ISU. She went on to hold many national offices. It is no surprise to me at all that Jenifer has risen to president-elect. She is highly revered by the national network and has done great work on a local and national level to promote Phi U and the students in the collegiate chapters. Jenifer is a dedicated young professional who has an affinity for leadership and a passion for service."
Reader said she is honored about this opportunity and grateful to the Phi Upsilon Omicron membership for their support of her leadership potential.
"I was inducted into Phi U as a student on the ISU campus in 2005, where I served as the chapter president for two years," Reader said. "My leadership experience gained at ISU gave me the confidence to pursue other leadership positions at local, state, and national levels over the past 12 years."
Reader will be inducted at a national meeting in Boston in September, and then will begin her term.
"As national president-elect, I will be in charge of running the national Professional Project program for two years," Reader said. "After that, I will transition to the National President position, in which I will be responsible for working with the National Council to handle the administration of the honor society for our 99,000 members."
About Phi U History: Founded in 1909 at the University of Minnesota; The first national student organization in FCS! Phi Upsilon Omicron has an expansive network of over 99,000 members. It has 72 chapters nationwide at both collegiate and alumni levels.
About the Phi U Professional Project: The professional project provides chapters with the opportunity to develop and implement a project that exemplifies the purposes of Phi Upsilon Omicron. Specifically, a well-developed project recognizes and promotes academic excellence and enhances qualities of leadership by allowing chapter members to utilize the skills and knowledge they have gained as Family and Consumer Science majors to serve individuals, families, and/or the community. A true professional project also encourages lifelong learning and commitment to advance FCS by going beyond simply implementing a service project. Instead, it provides members with the opportunity to enhance their leadership skills and encourages commitment to the field by allowing them to employ their professional knowledge while serving others.
---
Categories: