ISU to present 33rd annual ISU Choral Invitational Festival with concert on Oct. 20
October 11, 2018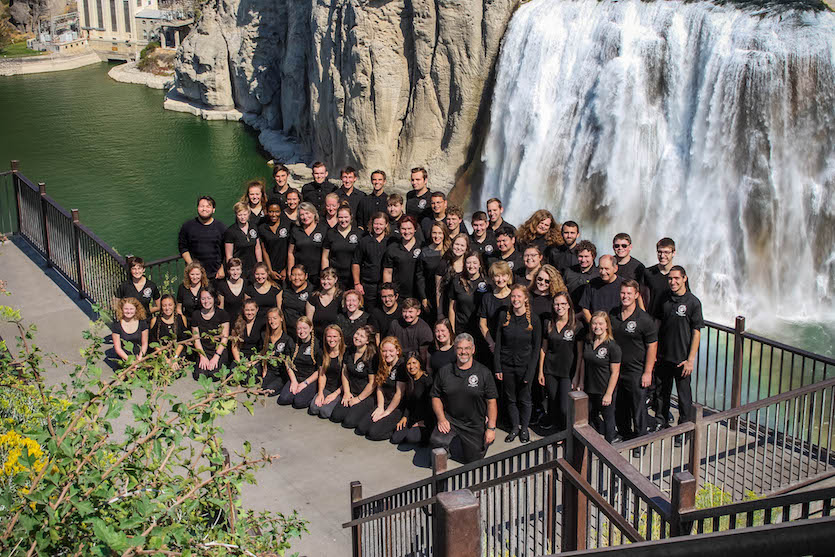 POCATELLO – Idaho State University will host 11 high school choirs and an internationally-recognized director during its 33rd annual ISU Choral Invitational Festival on Oct. 19 and 20 in the Stephens Performing Arts Center.
A concert, presented on Oct. 20 at 7 p.m. will conclude the festival. It will feature the 24-voice ISU Chamber Choir, 68-voice ISU Concert Choir and the Choral Invitational Festival Chorus, composed of the 11 high school choirs from across Idaho. The concert will take place in the Stephens Performing Arts Center Jensen Grand Concert Hall.
Nicole Lamartine will direct the high school chorus during student workshops and in the final concert. She is director of choral activities at the University of Wyoming, conducting multiple student groups and teaching voice courses. She is a rising resource for men's choir singing, recently conducting engagements in Oman, Germany, China and across the United States.
ISU Director of Choral Activities Scott Anderson will lead the Chamber Choir in its performance of Johann Sebastian Bach's "Gloria," Ivo Antognini's a cappella Latin setting of "Clamaverunt Justi" and the Matthew Brown arrangement of "True Colors," featuring soprano soloist Taylor Schultz. The Chamber Choir will also premiere ISU Assistant Professor Jon Armstrong's original composition "A Little Bit Rich," set to a poem by former ISU English Professor Ford Swetnam.
The Concert Choir, also conducted by Anderson, will perform the 16th-century Salmon Rossi motet "Elohim Hashivenu," Eric Whitacre's setting of the Margaret Wise Brown children's book "Goodnight Moon," Shawn Kirchner's "Unclouded Day" and "With Cheerful Notes, Let All the Earth" from G. F. Handel's Chandos Anthem No. 9.
The Festival Massed Choir, which includes both ISU choirs and the 11 high school choirs, will perform W. A. Mozart's setting of "Regina Coeli, the Nightingale" arranged by Dan Forrest, Gunnar Eriksson's arrangement of "To the Mothers of Brazil: Salve Regina" and the South African greeting song "Hlohonolofatsa" arranged by Daniel Jackson.
Natalia Lauk, lecturer in the ISU Department of Music, is featured as pianist in the Chamber Choir's Bach, Brown and Armstrong pieces and the Concert Choir's "Goodnight Moon" performance. Hillcrest High School Director of Choirs Camille Blackburn will serve as the pianist for the ISU Choral Invitational Festival for the 25th consecutive year.
Tickets for the final concert are $8 for adults, $6 for faculty/staff, $4 for pre-college students and free for ISU students. Tickets can be purchased at the ISU Box Office at 208-282-3595 or isu.edu/tickets.
For more information, contact the ISU Department of Music at (208) 282-2699 or andescot@isu.edu.
---
Categories: