ISU sophomore Sierra Hart named CPI of the Month for work with Idaho Department of Fish and Game
November 2, 2018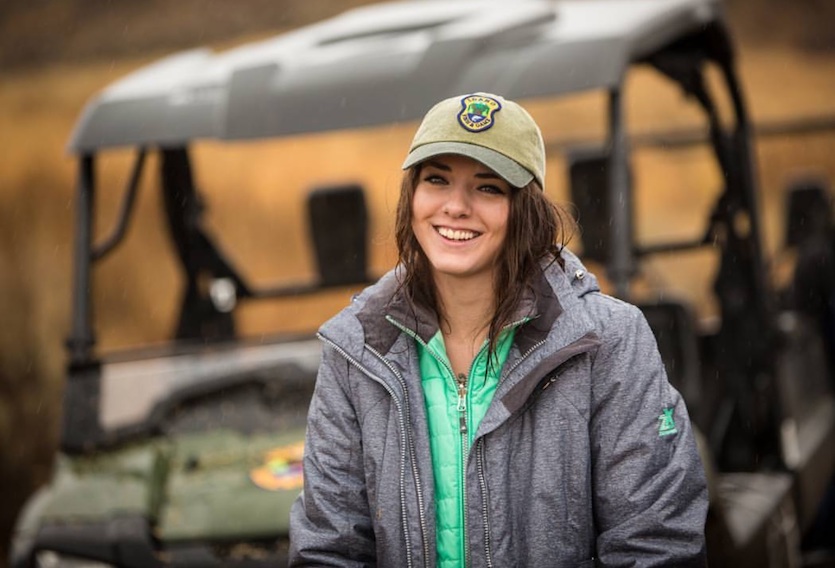 POCATELLO – Sierra Hart, a sophomore Idaho State University biology and ecology major, has been named the November ISU Career Path Intern of Month by the ISU Career Center for her work with the Idaho Department of Fish and Game.
Hart is working at the Idaho Fish and Game's Pocatello field office where she has been able to gain experience in a variety of departments including work in the habitat, wildlife fisheries and hunter education programs.
Recently, Hart taught more than 1,500 local fourth graders about poaching and hunting during Swore Farms' annual Ag Days event. The event is aimed at giving children a better understanding of farming, agriculture and where food comes from. Hart led an interactive activity that helped kids understand what poaching is and why it is important to prevent poaching.
"Being an intern has been a huge learning experience for me," Hart said. "I have been able to see all sides of Idaho Fish and Game and now know that I want to become a populations or diversity biologist. I wouldn't know what specifically I wanted to study without this internship."
Hart especially enjoys working with non-game species including birds, bats and bees. Over the summer, Hart was hired directly by the Idaho Fish and Game as a biological aid. She worked with bats in the Arco desert, testing for diseases and helping ensure healthy populations.
This month Hart is responsible for running a wing barrel route each week, collecting wings left by bird hunters to be used in evaluating upland bird productivity. Later this fall, she will have the opportunity to participate in the Idaho Wingbee, when the National Wildlife Service partners with state fish and game agencies to collect essential data on the type, age and sex of birds harvested each year.
She is also working on replacing signage on multiple Access Yes! properties throughout the region, which is a customer service provided by the department for the public.
"Sierra's enthusiasm for learning more about how the Idaho Department of Fish and Game both manages wildlife and serves the sportsmen ,women and citizens of Idaho, is moving her closer to achieving her career goals, said Anna Owsiak, Hart's supervisor who is the regional wildlife biologist for the Idaho Department of Fish and Game Southeast Region "She demonstrates excellent professional qualities and work ethic, and has been an asset to our region throughout her entire internship experience to date."
In her spare time, Hart enjoys hunting, the great outdoors and LED hula hooping. An Inkom native, she hopes to someday attend graduate school or work in Oregon.
---
Categories:
College of Science and EngineeringStudent LifeUniversity News