ISU January Career Path Intern of the Month Kelsee Harrison promotes ISU College of Education
January 3, 2019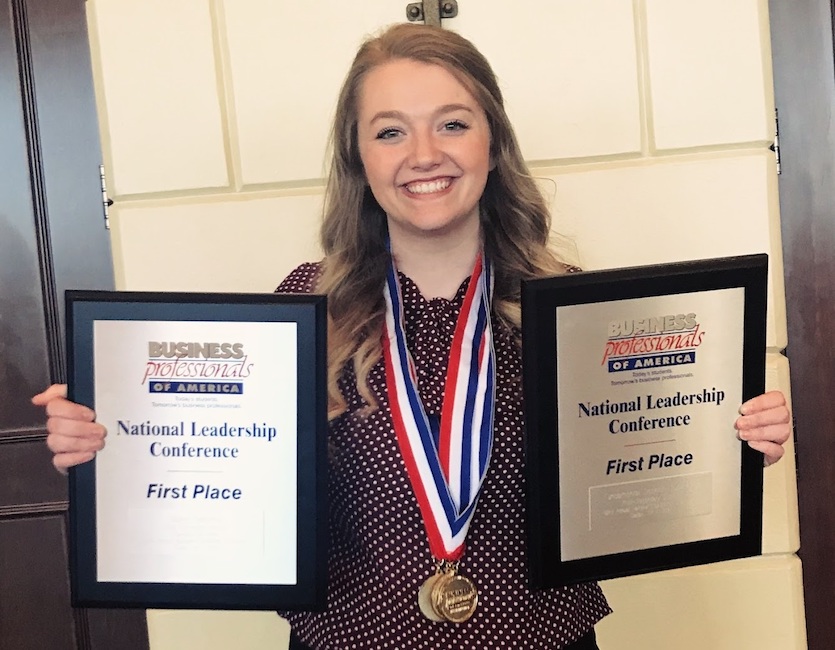 POCATELLO – Kelsee Harrison, a junior from Firth pursuing a bachelor's degree in secondary education with an emphasis in business technology, is the Idaho State University January Career Path Intern of the Month.
Harrison holds a CPI internship as the social media and marketing intern at the ISU College of Education. During her internship, she has been able to gain valuable experience in promoting the College of Education through marketing campaigns, creation of promotional material and daily management of the College of Education's social media accounts.
"Kelsee manages our daily social media posts, and creates the images herself using her business education background," said Amy Bytof, outreach and marketing coordinator the College of Business and Harrison's direct supervisor. "She has successfully helped run multiple campaigns with us increasing our page views, likes and helped us reach a goal of raising $3,000 for student scholarships."
Harrison first developed a passion for business technology and graphic design when she participated in the Business Professionals of America (BPA) organization in high school. Harrison qualified for BPA nationals in her junior and senior year, which led her to consider a career in teaching a subject that she is passionate about.
"The CPI program has helped me broaden my ideas of what I could teach," Harrison said. "Through my experience in developing marketing campaigns at the College of Education, I am now considering teaching marketing as well as business technology and graphic design."
Harrison expects to graduate in May 2020 and is considering a second degree in graphic design. She hopes to stay in the area and teach in a local high school. In her free time Harrison enjoys playing the piano, a self-taught skill, or exploring her creative side through graphic design programs such as Adobe Photoshop and Illustrator.
---
Categories:
College of BusinessCollege of EducationStudent LifeUniversity News