ISU College of Business's CEED Program and U.S. Bank host second student entrepreneur Pitch-Off Contest
January 7, 2019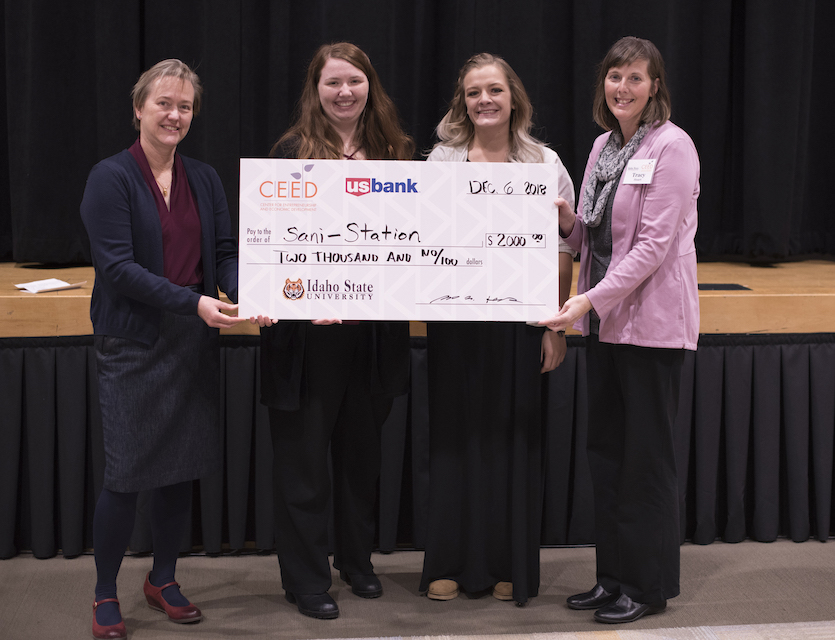 POCATELLO ­– After months of preparation, the Idaho State University Center for Entrepreneurship and Economic Development/U.S. Bank Pitch-Off Contest was held in December in the Pond Student Union Ballroom.
This year, 28 teams hailing from four ISU colleges and divisions across campus competed for prize money sponsored by U.S. Bank. More than 50 students, from a Ph.D. candidate to a senior from Highland High School, pitched their entrepreneurial ideas in 10-minute presentations to a panel of 21 judges from campus, business and civic organizations.
The winning team this year came from a student team proposing a self-cleaning baby changer station for public restrooms. The all-female student team presented a working prototype of the automated device and a compelling pitch to take it to market. The team won $2,000 for the best idea. They also won $250 for the best prototype, built by the College of Technology under the direction of the team. In total, nearly $10,000 was awarded by U.S. Bank to winning teams and students.
During lunch while judges deliberated and selected pitch-off winners, students played a game where each participant made a standing 60-second elevator pitch to a rotation of judges for instant cash.
Open to all students on campus, this U.S. Bank 'pitch-off' event organized by the ISU College of Business's Center for Entrepreneurship and Economic Development program helps motivate young entrepreneurs to polish-up their eventual application to the statewide $100,000 Idaho Entrepreneurship Challenge held each March in Boise.
---
Categories: