ISU Career Path Intern of the Month Lucas Rosa works with Idaho State Police on drone program
October 2, 2018
Tori Parks, Marketing Career Path Intern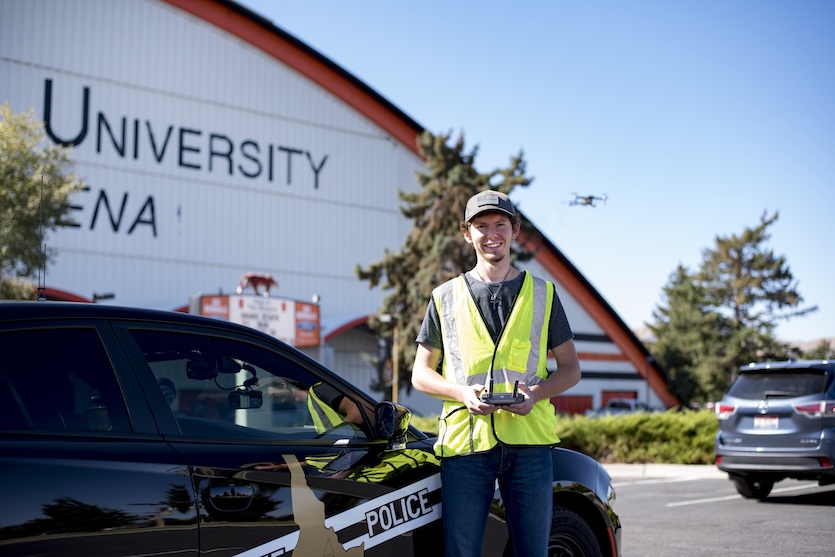 POCATELLO – Idaho State University's October Career Path Intern of the Month is junior Lucas Rosa, an intern with the College of Technology, pursuing a degree in the Unmanned Aerial Systems Associate of Applied Science program.
Recently, the Idaho State Police developed an Unmanned Aerial System (drone) program to allow troopers to use aerial imagery in crash reconstruction, crime scene processing and other incidents affecting public safety.
As the fledgling Idaho State Police UAS program was one of a kind in Idaho, it became necessary for the Idaho State Police to consult with the ISU UAS program for guidance. During this development, ISP had an opportunity to partner with the College of Technology and ISU's Career Path Internship program. During this process, Rosa was selected as a CPI student intern and has been involved in many facets of the ISP UAS Program.
"When I applied for this position I didn't think I would get it as there were a lot of applicants for the internship," Rosa said. "I am really glad that I got the internship as I am going to apply to the Idaho State Police force after I graduate, and this internship helped confirm that this is really what I want to do."
Rosa is also assisting the Idaho State Police in their application for the Federal Aviation Administration's Certificate of Authorization. This certificate will give special permission to the Idaho State Police to ensure that drones can be operated when necessary, such as at night in search and rescue missions. Rosa has also helped research the various types of drones to help the ISP procure the best equipment for the job.
"Lucas quickly immersed himself in the continued development of the ISP UAS Program," said Ed Gygli, intelligence analyst for the Idaho Criminal Intelligence Center, a part of the Idaho State Police and Rosa's supervisor. "With Lucas' involvement, I am confident FAA will grant this waiver. In addition, Lucas has been involved in 3D aerial imagery of crash scenes which is required for the ISP crash reconstruction process."
"Flying drones for the Idaho State Police can be, at times, very somber. Most often, when the ISP UAS program is called upon, it requires aerial imagery of fatal auto crashes and crime scenes where lives have been lost," Gygli said. "Lucas understands this and performs his role at ISP professionally and with dignity. He continues to demonstrate his ability to help this new program flourish and be on the cutting edge of Idaho public safety aerial imaging."
In his spare time, Rosa enjoys hunting, fishing and enjoying Idaho's beautiful wilderness.
---
Categories: