Idaho State University will induct seven into Sports Hall of Fame
October 10, 2018
Tori Parks, Marketing Career Path Intern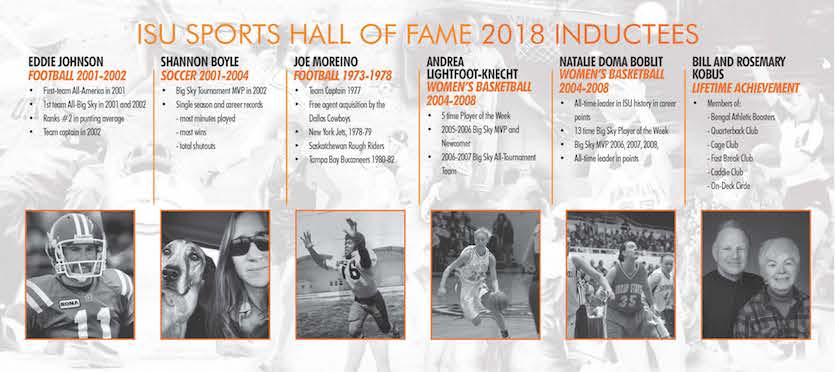 POCATELLO – The Idaho State University Office of Alumni Relations and ISU Alumni Association will induct seven new members into the Sports Hall of Fame on Oct. 27.
The new members include Eddie Johnson, from Marina Del Rey, California; Shannon Boyle, Pocatello; Joe Moreino, Wakefield, Rhode Island; Andrea Lightfoot-Knecht, Omaha, Nebraska; Natalie Doma Boblit, Corona, California; and Bill and Rosemary Kobus, Idaho Falls.
The Sports Hall of Fame reception will take place on Oct. 26 at 6 p.m. in the Idaho Sports and Orthopedic Center at ISU, 560 Memorial Drive on campus near Holt Arena. The Awards Ceremony will take place on Oct. 27 at 10 a.m. in the Stephens Performing Arts Center Black Box Theatre. RSVP atalumni@isu.edu.
Biographies for the ISU Sports Hall of Fame Class of 2018 inductees follow:
Eddie Johnson – Football
Johnson was an All-American selection in 2001 for punting, First Team All-Big Sky in 2001 and still ranks number two in punting average. Johnson was a team captain in 2002, and was instrumental in leading the Bengals to success.
Shannon Boyle – Soccer
Boyle came to ISU to play soccer, and graduated from ISU with a Bachelor of Science Degree in zoology. She currently coaches soccer for the Portneuf Valley Soccer Club, works for the Forest Service and has a small woodworking business to keep her busy during the winter months.
Joe Moreino – Football
Moreino played football at ISU from 1973 to 1977 as a defensive and offensive lineman. After his career was finished at ISU, Moreino was a free agent acquisition by the Dallas Cowboys, and was picked up by the New York Jets for the 1978-79 season where he made the 53-man roster. The next season he played in Canada for the Saskatchewan Rough Riders. In 1980 he returned to the NFL joining the Tampa Bay Buccaneers, on their injured reserve until 1982. Following football, Moreino had a career as a firefighter in Providence, Rhode Island, and is now retired.
Andrea Lightfoot-Knecht – Basketball
Lightfoot-Knecht came to ISU to play basketball. She ranks first in ISU history for free throw percentage and three-point field goals made. She also ranks second in ISU history with career points, points per game, career free throws made and career three-point percentage. She also has several Big Sky records. She graduated with a degree in exercise science.
Natalie Doma Boblit – Basketball
Originally from Toronto, Canada, who moved to Victoria, British Columbia at age 10, Natalie Doma Boblit came to ISU to play basketball. Her freshman performance was one of the best in school history with a season average of 11.4 points and 5.8 rebounds per game. She was an All-Big Sky Team selection her sophomore year and a Big Sky All-Tournament Team honor.
Bill and Rosemary Kobus
Bill and Rosemary Kobus both attended ISU. Bill served as President of the ISU Alumni Association in 2000 and returned in 2008 to serve four years as the office of alumni relations director. Bill and Rosemary have received the ISU President's Medallion Award and are significant supporters of the ISU Alumni Legacy Scholarship Fund. Bill and Rosemary are supporters of most sports at ISU, and are longtime ISU football and basketball season ticket holders.
---
Categories: