Idaho State University Department of Counseling explores China in cultural immersion partnership
November 12, 2018
Lee Ann Hancock, DHS Marketing Director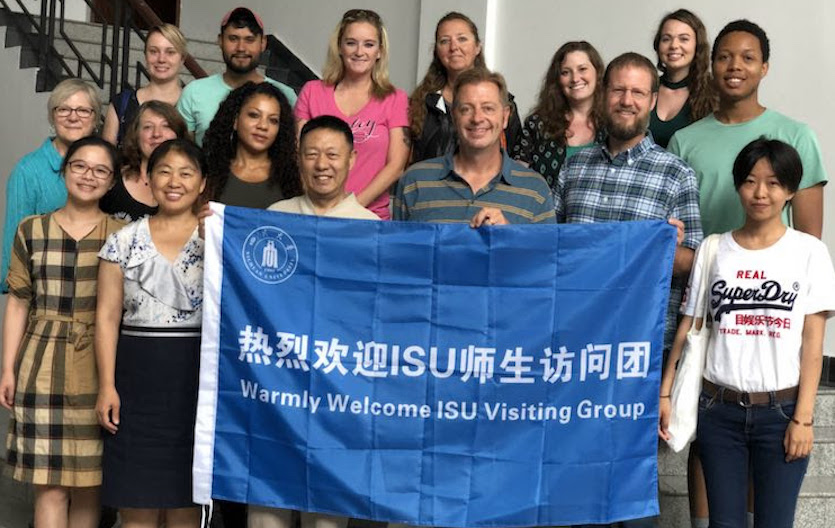 POCATELLO – A recent trip organized by the Idaho State University Department of Counseling gave a group of students, faculty and alumni the chance to study abroad in Chengdu and Beijing, China for a little over two weeks.
In a collaborative partnership with three universities and two countries, the trip provided a unique opportunity for counseling professionals to share and engage in a culturally rich joint learning experience.
Students and graduates of ISU and Penn State were immersed in the cultural, historical and spiritual learnings of the country, while expanding their knowledge of their influence on community and mental health service delivery. Students at China's Sichuan University were immersed in specialized training, taught in English, by ISU faculty.
The group was made up of individuals of all ages, professional and travel experience levels. Two Penn State University students and one alumni joined two ISU professors, one current master's student, one doctoral student and two ISU alumni, along with one counseling professional from Northern Idaho, to form the cohort.
Their study abroad, a "cultural immersion" workshop, included specific curriculum, designed for students to learn hands on about the political, social and environmental diversity of the country as well as experience their customs, history, and culture.
"In counseling, it is important to know the culture of your clients, so the immersion experience of traveling to another county is very effective," said Steven Moody, associate professor of counseling at ISU.
He said the objective of this course is to provide students with international experience and an adventure filled with personal growth, engage them in the culture and customs of the Chinese, as well as explore ethics.
"It gives them an opportunity to truly learn hands on and stimulates their desire to learn about mental health practices in a multicultural context," Moody said. "The students were asked to keep a journal where they recorded details about the places they visit, the cultural experiences unique to the Chinese that they learned, and reflect on what they experienced and learned."
In addition to the cultural immersion for ISU and Penn State students, another intent of the trip was to mentor and teach counselors and students in China. Moody and David Kleist, Department of Counseling chair and professor, taught classes on leadership and wellness as part of an English immersion experience for students at Sichuan University. They also taught clinical supervision workshops to counselors, working alongside the staff at Chengdu Dejue Social Work Service Center to collaborate and share their ideas.
"Our work was similar to mentorship, helping newer professionals develop," Moody said. "The counseling profession here in the United States is slightly more advanced. Counseling has been slower to develop in China based upon cultural norms of talking to a wise elder in the family before seeking outside help; it's a part of their culture. The U.S. has a lot of professional identity whereas they are still at the earlier stages in China. They are influenced by Western society, but there are certain elements of their Eastern philosophy that they are wanting to maintain."
The connection between the two universities and the two cultures came about from the vision of Ying Mei Wang, a visiting scholar from China who worked with Moody to plan the trip over the last year. Wang is known for having co-founded a counseling theory that is Eastern oriented. Lynn Bridges, lead counselor of West Bonner County School District #83, who made the trip, shared her appreciation for Wang.
"What a tremendous vision Ying Mei had," Bridges said. "Her connections and collaborations with others, both in the U.S. and China, were a remarkable testament to what can be accomplished when a person is determined. I will be forever grateful to Ying Mei for this opportunity and the experiences we had."
The trip proved to be an enlightening and learning experience for all involved. Penn State alumni Robert Jenkins, stated "the China trip taught me a new way of engaging with the mental health profession while also affirming that there is a desire from individuals to improve local communities no matter where in the world you are currently located."
Moody was pleased to be involved in arranging the trip, where his students were able to explore and experience many aspects of China's colorful, rich culture on this excursion.
"Seeing all the people doing exactly the same things people in the U.S. would be doing, moms pushing strollers, kids playing games, they're just people," Moody said. "That would be the one thing I wish people could see, that behind all the politics, people are just trying to have a happy and healthier life for their families, it's not that much different."
The group walked the Great Wall of China, indulged in many authentic Chinese meals, visited temples, Tiananmen Square and explored Beijing. They also put together a service project working with elementary aged kids where they played games and told stories as a way to learn a little bit of the language.
Camille Frank, a doctoral student at ISU, expressed her experiences while there.
"The ISU study abroad to China was an absolutely amazing experience," Frank said. "I've never felt so welcomed and cared for on any other travel experience. I am incredibly grateful for the relationships forged in my travel group, interpreters, travel guides, mental health professionals and with strangers I met along the way."
Moody says he hopes to make this trip or a similar trip again with a new group of students and professionals, and feels as though the strong connections established with contacts in other countries and culture will provide additional opportunities for ISU students in the future.
---
Categories: