Idaho State University Cereal Bowl Breakfast Food Drive runs through December 3
November 16, 2018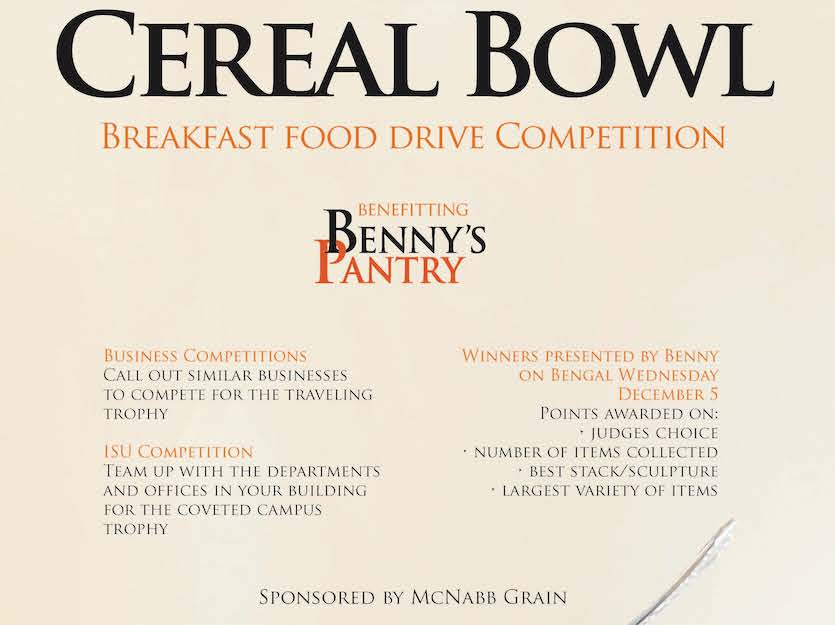 POCATELLO – The Idaho State University Leadership Development Cereal Bowl Breakfast Food Drive, benefiting Benny's Pantry and sponsored by McNabb Grain, runs through Dec. 3 in Pocatello.
The ISU and general business community are encouraged compete with each other to gather and donate as much nonperishable breakfast foods, such as cereal, instant oatmeal or breakfast bars, as possible to Benny's Pantry, which offers free, emergency food assistance directly to the ISU community.
The top business and the top ISU building will receive separate traveling trophies that will be awarded annually for this inaugural event. Local businesses can earn points based on the number of items collected, best stack or sculpture, largest variety of items and judges' choice.
"The use of Benny's Pantry is up 130 percent this year," said Tana Christensen, a member of the ISU Leadership Development Team organizing this event. "We need to collect as much food as possible to help our students. Breakfast, being the most important meal of the day, is the pantry's greatest need."
Trophies will be awarded on Dec. 5.
For information, please email isucerealbowl@isu.edu or call Christensen at 208-282-3198.
---
Categories: