Idaho State names Pauline Thiros interim athletic director
August 30, 2018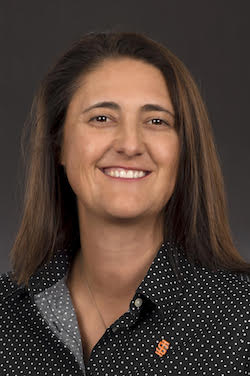 POCATELLO—Idaho State University has named Pauline Thiros interim athletic director.
President Kevin Satterlee announced the move on Thursday to the Idaho State Athletic Department and campus community via an email. Thiros will lead the day-to-day department operations while a national search is undertaken to permanently hire for the position.
"I am excited to appoint Pauline as interim athletic director," President Satterlee said. "Pauline has demonstrated a unique ability to lead effective operations and build successful relationships with the community and friends of ISU. Her passion for athletics is evident and will surely translate to a strong focus on the success of our students athletes."
Thiros said her main goal as interim athletic director is to make real and meaningful progress regarding challenges currently facing Idaho State athletics.
"I am committed to setting the stage for a new athletic director," Pauline Thiros said. "In the coming months, it's my goal to ready our student athletes, staff, and coaches for success under a new athletic director's leadership. Preparation is key, and we want to elevate our work and expectations. I believe our potential is great."
Thiros, a Pocatello native, has spent the last 23 years working in various roles at ISU and is currently the Associate Vice President for Development. She has previously been the Director of Planned Giving, Director of Alumni Relations, and assistant volleyball coach and recruiting coordinator. Thiros successfully directed ISU's first capital campaign, which kicked off in 2001. The campaign raised more than $152 million and resulted in the construction of the Stephens Performing Arts Center.
Thiros came to ISU in 1990 as a walk-on volleyball player, and her teammates voted her captain all four years. She earned Big Sky all-academic honors in her junior and senior seasons and was named the Big Sky Conference Scholar Athlete of the year in 1994. She was inducted into the ISU Sports Hall of Fame in 2006.
Thiros holds a bachelor's degree in Health Care Administration and a master's degree in Athletic Administration.
The national search for a permanent athletic director will commence in the next 30 days with the announcement of a search committee and community listening session. The hiring process is expected to take four to six months.
"Our coaches, teams, and student athletes are in good hands with Pauline while we conduct a national search for ISU's athletic director," President Satterlee said. "I would also like to extend an invitation for the community to meet Pauline at our first football game of the year."
ISU opens its football season against Western State Colorado University on Friday, Aug. 31. Kickoff is at 6:35 p.m. in the Holt Arena, and fans are encouraged to wear white. The community is also invited to Reed Gym on Friday, Aug. 31, and Saturday, Sept. 1, as the Bengals host the Idaho State Invitational volleyball tournament. ISU Women's Soccer will host Utah State at Davis Field on Saturday, Sept. 8, at 1 p.m.
---
Categories: