Idaho State-Civic Symphony to host Joy to the World: An ISU Christmas on Dec. 7 and 8 at 7:30 p.m.
November 20, 2018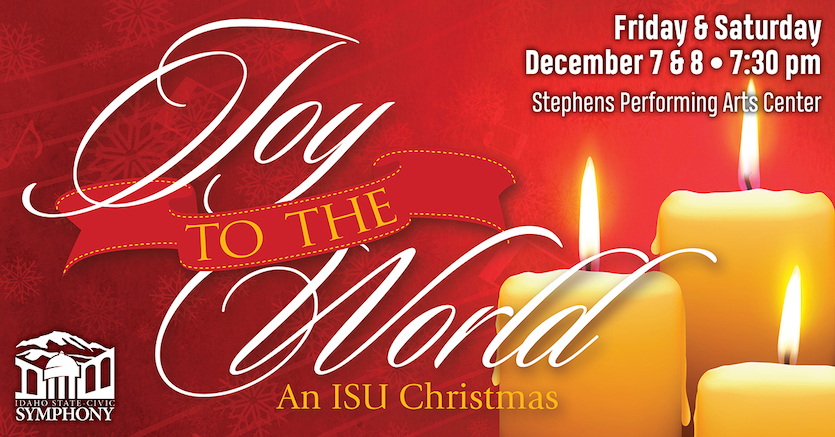 Concert to also feature the Camerata Singers, ISU Choirs, soprano soloist Diana Livingston-Friedley and special guests
POCATELLO – Usher in the spirit of the holiday season with the Idaho State-Civic Symphony, the Camerata Singers and the Idaho State University Choirs as they perform the music Southeast Idaho audiences have come to cherish and love at this year's Joy to the World: An ISU Christmas on Dec. 7 and 8 at 7:30 p.m. in the Jensen Concert Hall of the Stephens Performing Arts Center.
The program includes Frances Poulenc's "Gloria," featuring soprano soloist Diana Livingston-Friedley. Composed between April 1959 and July 1960, "Gloria" is one of Poulenc's (1899-1963) most well-known works for choir and orchestra. This setting of the traditional mass is a deep expression of faith and the composer's highly distinctive musical language. Audiences can also expect to hear traditional Christmas favorites like "Sleigh Ride," "Joy to the World" and other holiday classics and festive carols. As in years past, it will be a multifaceted and eclectic performance of Christmas music.
With 150 singers and 80 instrumentalists, more than 200 musicians will take the stage. The concert is under the direction of Idaho State-Civic Symphony music Director, Julie Sorensen, and Scott Anderson, ISU choral director.
"We are always enthusiastic and excited to collaborate with the symphony," Anderson said. "Of all the choirs that I conduct, the highlight of their year is singing with the symphony. When you have that many people involved from the community, literally hundreds of musicians all up on the stage, there is a synergy that comes from it that is powerful."
The Stephens Performing Arts Center will present a beautiful setting with a magnificent display of holiday lights and traditional garland and decor.
Joy to the World: An ISU Christmas showcases the unique talents of members of the university and community, and is a wonderful way to celebrate the holidays.
Tickets are $13-$40 and are available online at thesymphony.us/ or by calling the ISU Box Office at (208) 282-3595.
For more information, please visit .thesymphony.us/.
---
Categories: