Idaho State-Civic Symphony and acclaimed jazz artists the Kobie Watkins Grouptet to perform Feb. 8
January 10, 2019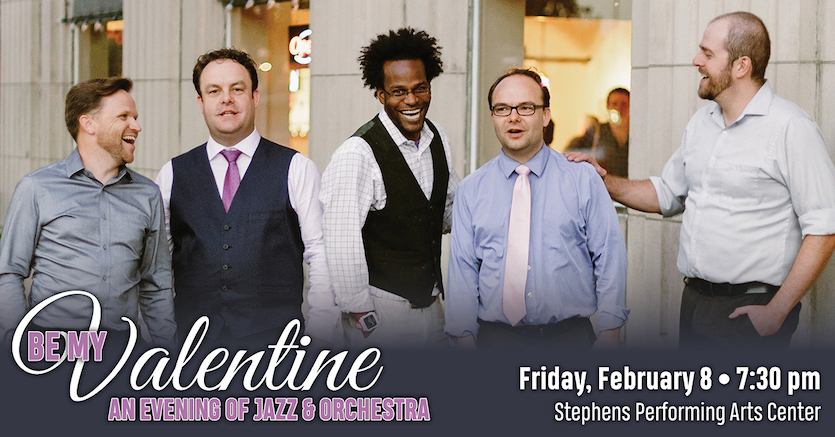 Concert to feature original jazz pieces scored for full orchestra; public also invited to attend catered pre-concert dinner in Stephens Performing Arts Center Rotunda
POCATELLO – Turn up the heat with the hottest ticket in town as the critically-acclaimed Kobie Watkins Grouptet joins the Idaho State-Civic Symphony for Be My Valentine: An Evening of Jazz and Orchestra on Feb. 8 at 7:30 p.m. in the Jensen Grand Concert Hall of the Stephens Performing Arts Center.
Tickets are $13-$40 and are available online at thesymphony.us/ or by calling the ISU Box Office at (208) 282-3595.
This program features original compositions by internationally-renowned drummer Watkins and pianist Justin Nielsen, a professor of trumpet and jazz studies at Brigham Young University-Idaho. The arrangements are by Watkins and saxophonist Jonathan Armstrong, director of jazz studies at Idaho State University, who scored each piece commissioned specifically for the Idaho State-Civic Symphony.
Many of the songs are off of the Grouptet's critically-acclaimed new album, "Movement" (Origin Records), which is a collection of nine original pieces inspired by and written during Watkins' travels in Africa, Russia and on tour with artists such as Sonny Rollins, Bobby Broom, Kurt Elling, Branford Marsalis, Joe Lovano and Ryan Cohen. The album was recorded at Brigham Young University in 2018.
The Kobie Watkins Grouptet, was formed organically over many years of friendship, performances and educational experiences around the world, and includes Nielsen, trumpet and flugel; Armstrong, soprano and tenor saxophone; Nielsen, piano; Aaron Miller, upright acoustic bass; and Watkins, drums, cymbals and percussion.
Make the evening extra special, by attending a catered dinner before the concert in the Rotunda of the Stephens Performing Arts Center beginning at 5:30 p.m. Tickets for the catered dinner are $45, and include a no-host beverage bar and an entrée of your choice. For more information on the entrée selections, visit thesymphony.us/. Reservations for the dinner cannot be included in your ticket order for the concert. They can be reserved by calling (208) 301-8877 or emailing symphony@isu.edu.
The Grouptet will be holding a masterclass and rehearsal on Thursday, Feb. 7 from 12:30 to 3 p.m. in the ISU Fine Arts Building Band Room. This event is free and open to the public.
They will perform at Portneuf Valley Brewing on Wednesday, Feb. 6 at 7 p.m. There is a $10 cover.
The Grouptet will also be featured at ISU Jazz Fest on Saturday, Feb. 9th at 7:30 p.m. in Jensen Grand Concert Hall of the Stephens Performing Arts Center. Admission is $8 at the door.
For more info on ISU Jazz Fest, please contact Jonathan Armstrong at armsjona@isu.edu or 208-282-3143.
---
Categories: