Idaho Museum of Natural History to host StarFest 2018 Aug. 17 on Bartz Field
August 10, 2018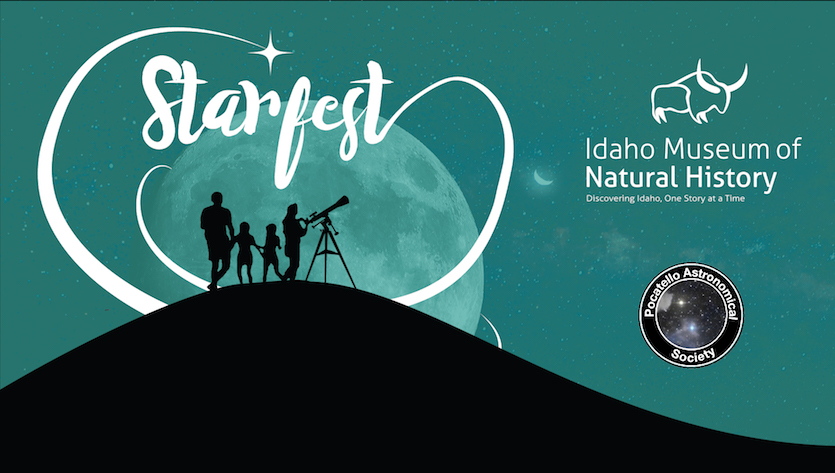 POCATELLO – Participants will have the opportunity to stargaze when the Idaho Museum of Natural History at Idaho State University will host its first-ever StarFest from 7:30 to 11 p.m. Aug. 17 at Bartz Field located on upper campus.
StarFest 2018 activities will include a telescope clinic, stargazing, the opportunity to learn about constellations and a yoga session at sunset. StarFest is held in conjunction with the Pocatello Astronomical Society, ISU Department of Physics and ISU New Student Orientation. StarFest also celebrates the end of Museum's successful summer long membership drive.
StarFest is inspired by Museum's summer exhibit, Astronomical Idaho, featuring Be the Astronaut, showing at the Museum through Sept. 3.
With many telescopes from all over Pocatello, participants will have an opportunity to stargaze with the assistance of local astronomers. Anyone with a telescope is encouraged to bring them along to this event. At 7:30 p.m. a telescope clinic, hosted by the Pocatello Astronomical Society, will assist individuals with their telescope operations and ISU Department of Physics will provide constellation education.
Lori Head from Mind Your Body will prepare participants for their planetary experience with yoga moon salutations at 8 p.m. This activity is geared for all ages and skill levels. No mat is required.
Stargazing participants are encouraged to bring binoculars because some constellations may be viewed without a telescope. Additionally, a dark environment is best for viewing and it is requested that only red lights, not regular flashlights be used.
"Truly the first of its kind in Pocatello, this free event is definitely a great way to wrap up this summer season," said Terri Bergmeier, Idaho Museum of Natural History director of development.
The Museum has been serving Idaho since 1934. The gallery is open Tuesday through Sunday. Subscribe to Museum's monthly e-newsletter at imnh.isu.edu for more program updates and follow it on Facebook for more information on all of its events.
For more information on StarFest, Museum membership questions or business partnership opportunities, contact Bergmeier at 208-282-6168.
---
Categories: