Idaho Entrepreneurship Challenge underway on ISU's campus
August 15, 2018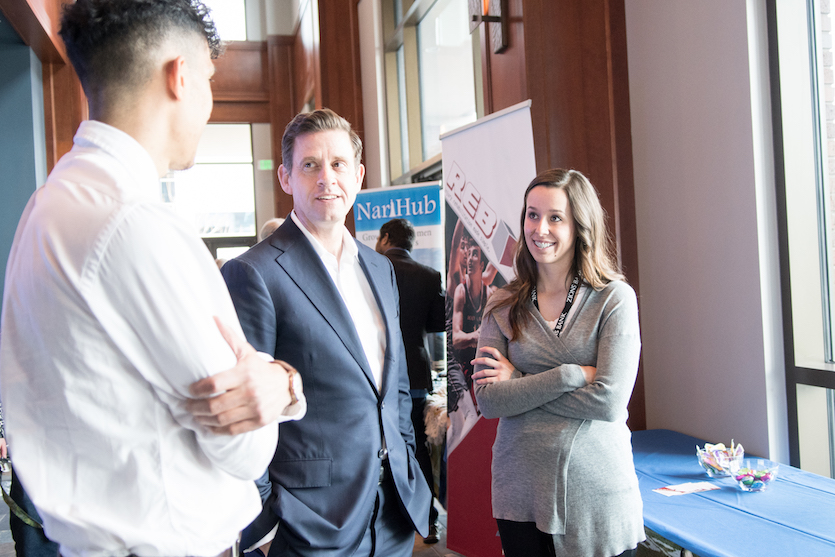 POCATELLO – The Idaho State University Center for Entrepreneurship and Economic Development (CEED) is once again leading a group of students in the Idaho Entrepreneurship Challenge who will prepare for the U.S. Bank Pitch-off Contest this fall and then try to compete for $100,000 in prize money next spring.
Project registration in Pocatello will occur during the month of September, as detailed below.
The Idaho Entrepreneurship Challenge is a competition hosted in Boise where students from schools throughout the state present their business ideas for an innovative products or services. Before going to Boise, students must prepare a business concept proposal, prototype or sample, and a 60-second elevator pitch, which could all lead to their selection by judges to attend. Once in Boise, the students will present their ideas in front of a panel of judges for a chance to win a portion of the $100,000 in prize money in March.
As the challenge and preparations are under way, U.S. Bank will host a Pitch-Off Contest at ISU during the first week of December. During this contest, teams will present a four-minute pitch to panels of judges. Students with the best pitch will win a cash prize from U.S. Bank. Prizes for this preliminary competition at ISU include:
$2,000-First Place
$1,000-Second Place
$500-Runner Up (2 awards)
$250-Best Support Materials
The U.S. Bank Pitch-Off Contest will incentivize students to polish up the eventual 60-second elevator pitch they will need to put together for entry into the final competition. This 'Pitch-Off' will be a workshop opportunity for teams to fine-tune their application for the statewide Idaho Entrepreneur Challenge.
Information about the Idaho Entrepreneur Challenge and U.S. Bank Pitch-Off 2018-2019 is bullet-pointed below:
• September 2018 – Interested participants can register their projects with CEED by emailing a brief synopsis of their ideas to CEED Director Jeff Street at
strejeff@isu.edu
; the email should have "IEC Project 2019" in its subject line.
• October/November 2018 – With help of CEED prepare proposal, team and impact statements.
• November 2018 – Informal practice pitch workshop in the ISU College of Business, Business Administration Building Room 403.•
• December 2018 – "Pitch-Off" Contest in the Pond Student Union – Teams compete for $2,000 prize money from U.S. Bank.
• December/January – Prepare application including a prototype or sample for contest in Boise.
• January 2019 – Submit Application to the competition in Boise. Includes online application and 60 second pitch video (help in preparing video provided by CEED)
• March 2019 – Expense paid trip to Boise for finalist teams to make their pitches at the Idaho Entrepreneurship Challenge and compete for the prize money.
Student teams must include at least one matriculated, full-time, degree-seeking undergraduate or graduate student enrolled in Idaho university or a college in academic year 2018-2019 for fall or spring semester. While collaboration with industry is encouraged, the contest requires that the student(s) be a substantive member(s) of the founding team, and a committed leader of the venture.
---
Categories: